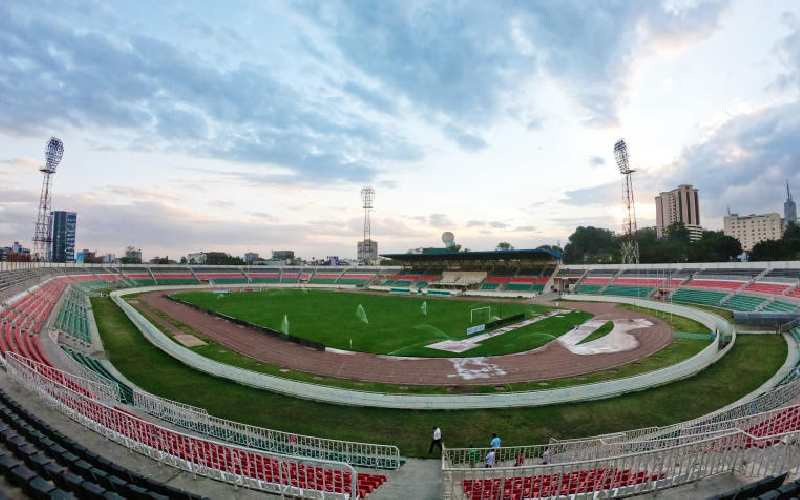 Kenya has confirmed it will submit a joint bid to host the Africa Cup of Nations in 2027 together with Uganda and Tanzania, which if accepted it will be the first ever continental tournament to be held in East Africa.
This will be the third time the country will be seeking to host a major football tournament after winning the 1996 Afcon and 2018 African Nations Championship (CHAN) bids only for Kenya to fail to stage the competitions due to unpreparedness and political uncertainty.
Kenya is currently serving a suspension that was imposed on their FA by the world football governing body, Fifa, on March 31 citing government interference.
But the new bid faces competition from a collaboration between Botswana and Namibia, who announced their intention to host the prestigious event in May 2022.
And for Kenya to stage the tournament, Senate Majority leader Aaron Cheruiyot has challenged the newly appointed Sports Cabinet Secretary Ababu Namwamba to ensure Kasarani and Nyayo stadiums are upgraded to the international standards as required by the Confederation of African Football (CAF) and the Fédération Internationale de Football Association (Fifa).
The two largest sporting facilities in the country were banned in October 2021 by CAF after they both failed to meet the required standards to stage international matches.
"Part of President William Ruto's administration plan is to co-host the 2027 Afcon. Personally I have talked to the President about this and I've pressed on him, the need to ensure that once the CS comes into office, he receives the necessary budget allocation to first of all get our stadiums (Nyayo, Kasarani, City and the six regional stadiums that we have been putting up together) up to the international level where we can be able to compete," Cheruiyot, who is also Bunge FC (Senate) captain told Standard Sports during yesterday's training at Nyayo stadium.
"I expect that we as a country, if we put our act together, then we should be able to join the rest of the East African community (Tanzania and Uganda) in bidding for the 2027 Afcon. I believe this is an achievable target only if we get our act together."
He continued: "Then by 2025 when we do the bidding for Afcon 2027, we will be able to give a good account of ourselves. This is the time for the East African region to host the tournament, we should not let that opportunity pass. Otherwise, if we don't prepare ourselves well, Tanzania and Uganda will grab this opportunity yet everybody knows across Africa that when it's a turn for East Africa, then the anchor host should be Kenya. Save for the most important thing which is the stadium, we have all the necessary facilities.
"Therefore, over to you CS Ababu, put things in order, return football back to the fans and also ensure we have good stadiums beginning with Nyayo and Kasarani.
"As we speak today, Harambee Stars doesn't have a field to play in because both Nyayo and Kasarani stadiums are banned. It's just over little adjustments; lights that are not working, security gates and water that's not present in the stadium. I believe with a small budgetary allocation from the Sports Fund, we should be able to spruce up both stadiums."
Just like any other football stakeholder, the Kericho County Senator is still saddened by the current state of the Kenyan football.
He now wants Namwamba, who was among the 24 CS to be sworn-in yesterday, to move with speed to bring normalcy back into the game.
"It's a terrible situation. We warned the former Sports CS Amina Mohamed in parliament that football is a global sport. We are not an island where we think that we can manage it on our own," said Cheruiyot.
"There are statutes and laws for which Kenya has signed up to and if and when there are difficulties as she alleged in the management of football, then she ought to have followed the laid down statutes of ensuring that she brings good order to the game. Unfortunately, she didn't listen to us and it resulted in the ban where for the last almost one year now our sportsmen and women have been in the dark.
"I'm heartbroken because I really love football and I have invested a lot in football programmes in my County because I know just like education it's a one silver bullet where if you get it right, you can really give a life chance to many young people."
"CS Ababu is a great fan of football and he understands how global football administration runs. My advice to him, in February 2022, Fifa wrote to CS Amina Mohamed and laid down the conditions which Kenya has to meet for us to be admitted back to the global competitions. If there are things that we need to manage locally, we can handle it.
"I advise my good friend Ababu to follow what Fifa demanded of us. There were two conditions they laid down by Fifa. Once we adhere to, I believe within a very short time, we should be admitted back. There's a lot to handle in that particular department."
Cheruiyot's sentiments were echoed by his Bunge FC teammate (National Assembly captain) and Rarieda MP Otiende Amollo, who challenged football managers to take a leaf from their athletics counterparts.
"It's our intention to engage with the football managers in this country. Football has been mismanaged in this country badly. So, once the new CS settles in and they appoint a PS, we as Bunge FC will also engage with them. We will give them any assistance that they need in terms of parliament," said Amollo.
"But we will also expect them to reorganise this game in such a way that we will not only be readmitted to playing competitive football but also try to get somewhere with football the same way we have done with athletics."
Bunge FC is currently preparing for next month's East Africa Community Inter-Parliamentary games in Juba, South Sudan.
Related Topics