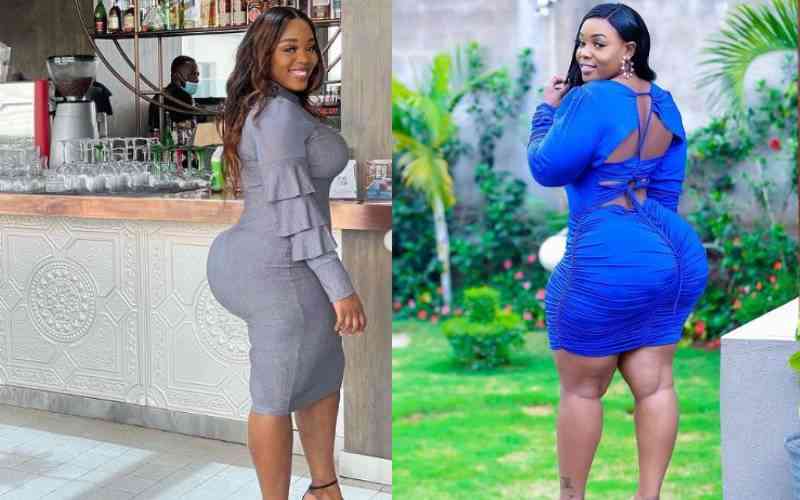 Socialite Risper Faith has been the subject of scrutiny due to her noticeable weight gain, which occurred three years after she underwent a liposuction procedure.
In a recent interview with Radio Maisha's Mwende Macharia, Risper addressed these concerns and shed light on the reasons behind her weight gain following the surgery.
Risper Faith said that she underwent liposuction in 2020, but unfortunately, it did not yield the desired results. She acknowledged that the main reason for this outcome was her failure to adhere to the post-operative instructions provided by her healthcare professionals.
She admitted to not following the recommended dietary guidelines and neglecting to engage in regular exercise, which ultimately led to the reversal of the procedure's effects.
During the interview, Risper said, "I had liposuction in 2020, but I didn't follow the necessary procedures and failed to maintain a healthy lifestyle. As a result, I gained more weight instead of achieving the desired outcome. It's a decision I now regret."
The liposuction surgery itself came at a considerable cost of Sh460,000, and Risper clarified that the funds for the operation were provided by her husband.
Back in 2020, Risper publicly shared on her Instagram page that she had chosen to undergo liposuction.
She explained that her goal was to remove excess fat from her stomach and lower back, with the intention of returning to her ideal weight of 80 kilograms. After giving birth, she had experienced a weight gain of over 35 kilograms.
In her Instagram post, Risper expressed her frustration, stating, "My ideal weight is 80 kilograms, but currently, I'm at 115 kilograms. It has taken me about six years to gain all this weight. Despite my attempts to work out and lead a healthy lifestyle, I haven't seen significant progress."
Risper emphasized that her appearance was a vital aspect of her brand and potential earnings. She revealed that numerous clothing lines were interested in collaborating with her, and she believed that looking good would enhance her financial prospects.
Seeking a long-term solution, she expressed confidence in the safety of liposuction and her hope for happiness through the procedure.
However, in 2022, Risper made a revelation that she had experienced weight gain once again. She openly discussed the possibility of undergoing a mini gastric bypass surgery, taking to Instagram to share her plans.
In a bold statement, she wrote, "When I do my mini gastric bypass, it's over for you, bit***."
It is crucial to note that while liposuction can effectively remove unwanted fat deposits, it should not be viewed as a substitute for a healthy lifestyle.
The American Society of Plastic Surgeons emphasizes that liposuction "is not a treatment for obesity or a replacement for proper diet and exercise."
Maintaining a balanced diet and engaging in regular exercise are essential for weight management and long-term results.
Related Topics