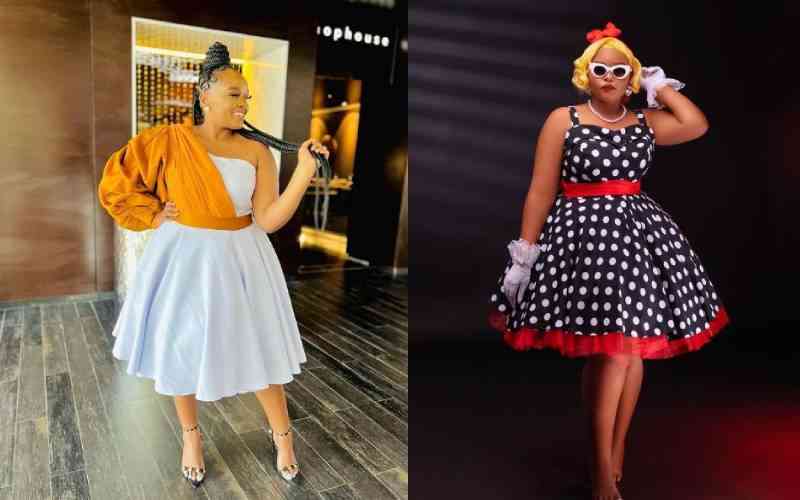 Content creator Milly WaJesus recently opened up about her ongoing struggle with weight loss, shedding light on the severe health issues she has faced as a result.
In a candid episode of the reality show 'Oh Sister,' Milly, a mother of two, revealed the toll her excessive weight has taken on her well-being, recounting a harrowing experience that almost resulted in the loss of her eyesight.
Milly disclosed that she had been diagnosed with a condition called Intracranial Hypertension (IH), which is characterized by increased pressure around the brain.
The intensity of this pressure had a detrimental effect on her eyes, posing a serious threat to her eyesight. Even to this day, she continues to grapple with vision problems in her left eye.
"The pressure was building up all the way to my head, pushing my eyes out. I was losing my eyesight. And even now, I struggle with my left eye," Milly explained.
Moreover, Milly expressed her deep concerns regarding her weight, highlighting the pivotal role it played in her health struggles. She recalled a conversation with a specialist who delivered a stark message: she needed to lose weight urgently.
At the time, Milly weighed 84 kilograms, and the excess weight almost caused irreparable damage to her eyesight. However, the journey towards weight loss proved to be a relentless battle for her.
"What about now, when I weigh 96 kilograms? I've tried numerous methods, but nothing seems to work," Milly expressed her frustration, acknowledging the difficulties she had encountered in her pursuit of effective weight loss.
To reclaim her health, Milly made the decision to undergo a gastric balloon procedure, a popular weight loss intervention that has garnered attention worldwide.
This procedure typically spans over four months and involves the insertion of a saline-filled silicone balloon into the stomach. By reducing the amount of food one can consume and inducing a sensation of fullness faster, the gastric balloon aims to facilitate weight loss.
The reality show documented Milly's journey and her visit to the doctor and provided a glimpse of the support she received from both her mother and her husband. However, Milly's mother, although supportive in many ways, expressed caution and disagreement regarding the gastric balloon weight loss procedure.
In a heartfelt video shared on the couple's YouTube channel, Milly informed her mother about her plans to undergo the procedure in Turkey, prompting her mother to voice her concerns.
"Please, don't swallow that thing. Don't undergo plastic surgery. Aren't you fine as you are? I hear Kabi saying you look great. Let me ask you, you have a husband, why are you searching for wide hips? Women should feel confident in the eyes of the opposite gender," Milly's mother shared her heartfelt concerns.
The gastric balloon weight loss procedure has garnered increasing popularity among Kenyan celebrities, with notable figures such as Willis Raburu, Kate Actress, Jackie Matubia, and Maureen Waititu embracing this intervention as part of their weight loss journeys.
Related Topics