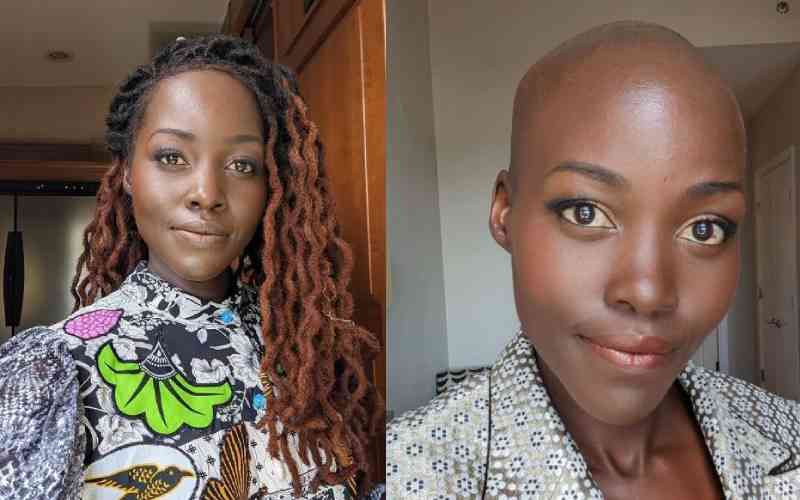 Renowned actress Lupita Nyong'o, is making headlines with her latest look: a bold, bald head.
The 40-year-old Oscar winner took to Instagram to debut her fresh new look, and fans were stunned by her daring transformation. Nyong'o has also been seen in public rocking her new bald head with confidence and grace.
In the caption of her social media post, Lupita revealed her excitement about her new look, saying, "Happy without hair! (Application for the Dora Milaje submitted!)"
View this post on Instagram
For those who may not know, the Dora Milaje are the elite group of female warriors in the Black Panther movies, and Lupita plays the character Nakia in the franchise.
Fans and celebrities alike praised Lupita for her courage and beauty in rocking the new hairstyle. Many people commended Nyong'o's decision, stating that she looks stunning no matter what she does with her hair.
This isn't the first time the actress has made a significant change to her hair. In April this year, Nyong'o chopped off her sisterlocks, and she documented the transformation on Instagram.
In the video, she bid goodbye to her hair, stating how thick and good it had been to her. Nyong'o then proceeded to cut her hair, revealing her fresh buzzcut. She talked about how difficult it was to say goodbye to her long locks, but she was ready for a change.
View this post on Instagram
Lupita has always been open about her hair journey, which has not always been easy. In a 2018 interview with Allure magazine, Lupita talked about how she was teased for her looks when she was younger and used to feel "really unpretty."
She particularly struggled with her hair when she was growing up in Kenya and felt liberated when she eventually shaved it all off and went bald.
The actress said that when she was around 13 or 14, she had a rough time with being teased and feeling unattractive. She didn't love her hair when she was a child, especially since it was lighter than her skin tone.
Lupita was envious of girls with thicker, longer, more lush hair. In her tween years, she started begging her mother to have her hair relaxed, but her mother wouldn't allow it.
Eventually, Lupita's mother allowed her to relax her hair, and she felt much better. However, she got tired of caring for her relaxed hair and was intrigued when her father joked that she should shave it all off.
A few months later, Lupita thought to herself, "Why don't I?" and went to a hair salon to have it cut off. She describes the experience as "scary but liberating" and said that going completely bald was definitely a liberating stage.
Related Topics