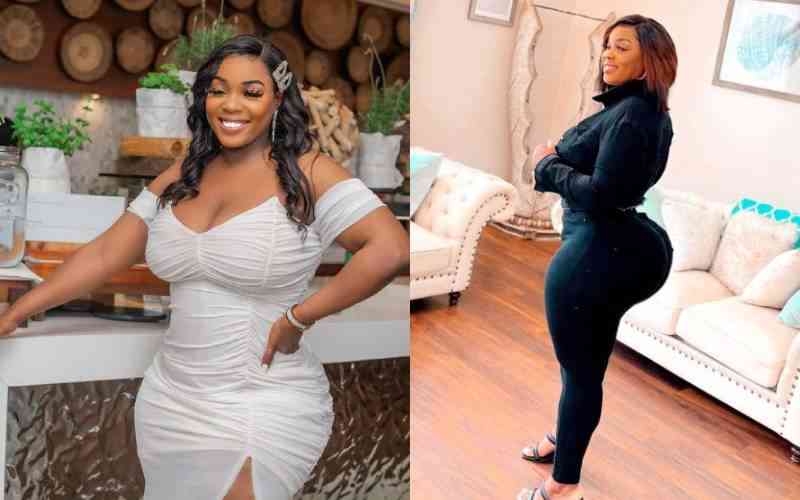 Kenyan socialite Risper Faith has been facing scrutiny over her weight gain, three years after undergoing liposuction surgery.
Responding to fans on Instagram stories, Risper addressed a fan who had asked if her liposuction had backfired, causing her to regain weight.
"I'll advise you to go do your research learn about liposuction and surgeries," Risper replied, adding a sarcastic laugh.
According to the American Society of Plastic Surgeons, liposuction is a surgical procedure that "removes unwanted deposits of excess fat from specific areas of the body." The procedure can be used to target areas such as the abdomen, hips, thighs and buttocks.
In 2020, Risper announced on her Instagram page that she had undergone liposuction surgery, having eight litres of fat removed from her stomach and lower back. She explained that she wanted to get back to her ideal weight of 80kgs, having gained over 35kgs after giving birth.
"My Idle (sic) weight is 80kgs, and I am at 115Kgs and it has taken me about 6 years to gain all this weight. I have tried gym, but working out and staying Healthy is not that Easy but am not seeing any progress," Risper said in her post.
She said that as a brand, she wanted to look good to increase her earning potential.
"You know Lady Risper is a brand, there are so many clothing Lines which want to work with me, and you know if you look good you make good money. So am just looking for a permanent solution …liposuction surgery is a very safe procedure. Am not happy right now, I want to be happy and liposuction will make me happy," she said.
However, Risper later revealed in 2022 that she had noticed weight gain again and was considering undergoing a mini gastric bypass surgery.
She took to Instagram to share her plans, stating, "When I do my mini gastric bypass, it's over for you bit***."
While liposuction can remove unwanted fat deposits, it is not a substitute for a healthy lifestyle.
According to the American Society of Plastic Surgeons, liposuction "is not a treatment for obesity or a substitute for proper diet and exercise." It is important to maintain a healthy diet and exercise regularly to prevent weight gain and maintain the results of the procedure.
Related Topics