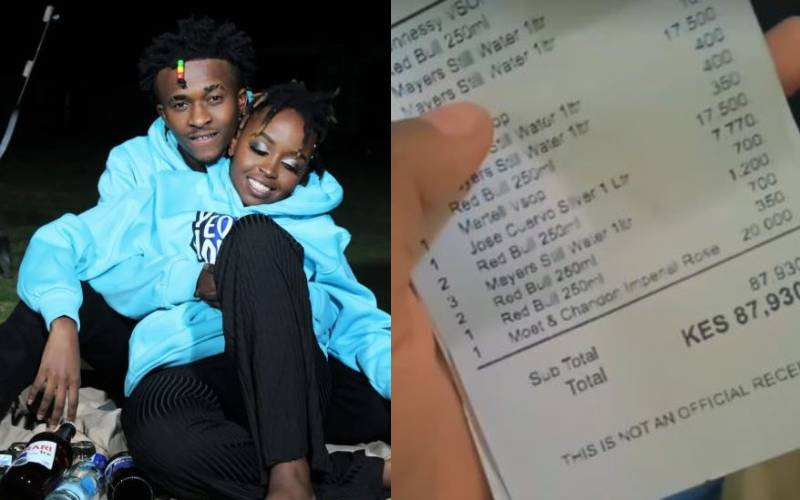 Former Sailors gang member, Peter Miracle Baby, has sparked a heated online debate after flaunting the amount of money he spent during a night out at a popular club in Nairobi. The young artist took to his social media accounts to share a receipt indicating he had spent a whopping Sh87,930 on alcoholic drinks, energy drinks, and water.
In a video posted on his Instagram stories, Miracle Baby could be seen gleefully sharing the receipt with his followers. However, in the background, his girlfriend, Carol Katrue, was heard lecturing him on his extravagant spending, "Babe hizi ndio pesa ulitumia jana, (this is all the money you spent yesterday?)". But Peter arrogantly replied, saying yes, and that it was because his friends had come over.
In disbelief, Carol shared the receipt on her Instagram stories and captioned it, "Babe, seriously, @Peter Miracle Baby, huyu hakumbuki tuko na mtoto," she said, which roughly translates to "this one is acting like he doesn't remember we have a small baby." She accompanied her caption with side-eye emojis.
However, Kenyans on social media were quick to call out the couple for their behavior, reminding them that spending money recklessly in a club on alcohol was not something to be proud of. Some went ahead and trolled the couple, pointing out that they should never see a pay bill number from the two begging for help if anything ever strikes them again.
It is not the first time that the couple has been at the center of controversy. In the past, Peter was hospitalized, and Carol had to seek help from Kenyans to foot his pending hospital bills that had accumulated to a high amount. Additionally, Miracle Baby has been accused of being a deadbeat dad on several occasions and urged to focus on taking care of his kids rather than wasting money.
However, the couple remained defiant, responding to the criticism by asking netizens to stop being jealous and stating that jealousy could lead to untimely death. "Kenyans si mta dedi na wivu... anyway mkasikie vibaya na huko kwenu," wrote Carol, accompanied by several laughing emojis.
Peter, not willing to be left behind, also commented on the post highlighting that most of the guys hating were just broke and bitter. "@Carol Katrue na uki note wengi wa watu wenye hutusiana wanakuanga wamewashiwa hotspot," wrote Peter, and accompanied the post with lots of laughing emojis.
To prove further that they weren't bothered by critics, Carol posted a video of her baby daddy sleeping in their bed with lots of money in denominations of 1000 bob and 200 bob notes spilled across him. She then proceeded to throw the money up and down on him, causing him to wake up from his "sleep" in disbelief.
This isn't the first time a Kenyan celebrity has been criticized for their lavish lifestyle. The backlash against celebrities who flaunt their wealth on social media has become a common occurrence in the country. Many Kenyans feel that these celebrities are not living up to their responsibilities and are failing to set good examples for their fans.
Related Topics