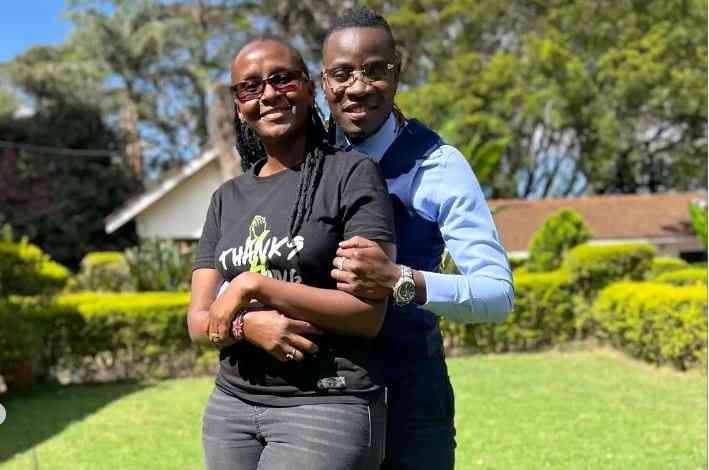 Gospel singer Guardian Angel and his wife Esther Musila have been under immense pressure from fans to have children. In a recent interview, the couple attended a comedy event hosted by MCA Tricky where they addressed the issue.
The couple questioned the relevance of having children for the sake of their fans. They urged their followers to respect their privacy and allow them to live their lives as they see fit. They expressed their frustration with people who constantly inquire about when they will have children, asking them to consider whether they would raise or provide for the child.
Guardian Angel went on to caution men against asking others about their plans to have children. He noted that the woman is the only one who knows the father of their children, and it is disrespectful for one man to inquire about another's plans to become a father. He also joked that the person asking may be raising his children without his knowledge.
"In this world we are living in today live in.. mwanaume usiulize mwanaume mwingine kuhusu mambo ya mtoto. Ata wewe wenye uko nao ni mama tu anajua ni wa nani. Unaezakua hapa nje ukisema ata huyu jamaa hapati watoto.. kumbe wenye uko nao in wangu," said Guardian.
Esther Musila, who has three children from a previous relationship, echoed her husband's sentiments, emphasizing that it is their private matter and nobody else's business. The couple appealed to their fans to give them the space they need to live their lives and not meddle in their affairs.
"You don't know me so why are you telling me when to get a child? Will you raise them? will you provide for them? Why are you telling me to get a child, for an online follower? People should mind about their business," said Esther.
The couple celebrated their first wedding anniversary in January of this year. They expressed their gratitude to those who have been supportive since they started dating and wished for happiness, health, joy, and prosperity in life. They also reaffirmed their commitment to each other and to their marriage.
Related Topics