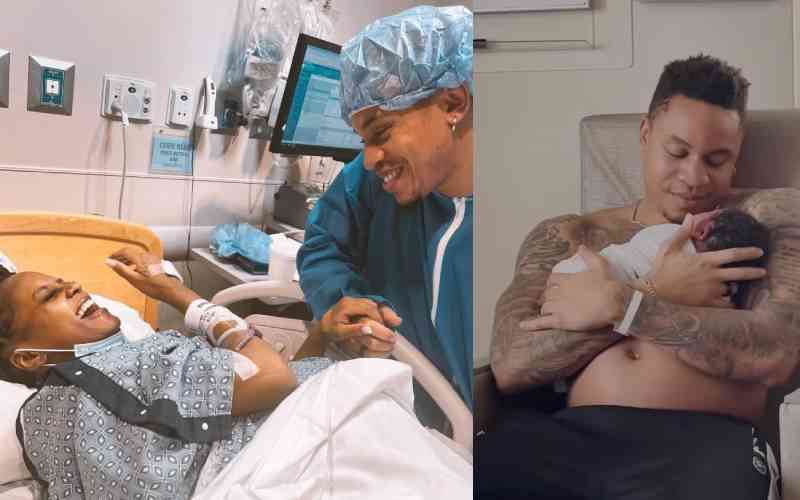 Singer Rotimi and his fiancée Vanessa Mdee have announced the birth of their second child, a beautiful baby girl named Imani. The couple took to social media to share their joyous news with their fans, expressing their gratitude to God for blessing them with another bundle of joy.
In a heartwarming video posted on Instagram, Vanessa is seen placing her hand on Rotimi's hand, followed by their son Seven, and then their newborn daughter Imani. The video perfectly captures the love and happiness that the couple is feeling at this moment.
Rotimi expressed his overwhelming joy in a caption accompanying the video, stating that he is still trying to wrap his mind around the fact that he is announcing the birth of his daughter. He went on to shower his fiancée with praises, describing her as a superhero and thanking her for blessing him with two beautiful children.
View this post on Instagram
"Vanessa Mdee, you are nothing short of a superhero! Our second child together & Seven now has a little sister to watch over. God you have poured blessings on me so many times so I will scream my praises back to You! I'm forever grateful," said Rotimi.
Vanessa also took to social media to express her gratitude to God, stating that she is beyond blessed and thanking Him for his goodness. She revealed that their daughter's name is Imani Enioluwa Akinosho, a beautiful name that perfectly reflects the couple's love and appreciation for their Nigerian heritage.
This is the couple's second child together, following the birth of their son Seven in September 2021. The couple had kept the pregnancy a secret until just a few days before the delivery, which made the news of Imani's birth even more surprising and joyous for their fans.
The family of four is now complete, and the couple is overjoyed to welcome their little princess into the world. With their fun-filled and entertaining presence on social media, fans can look forward to seeing more heartwarming moments shared by this beautiful family. We wish them all the best as they embark on this new journey together.
Related Topics