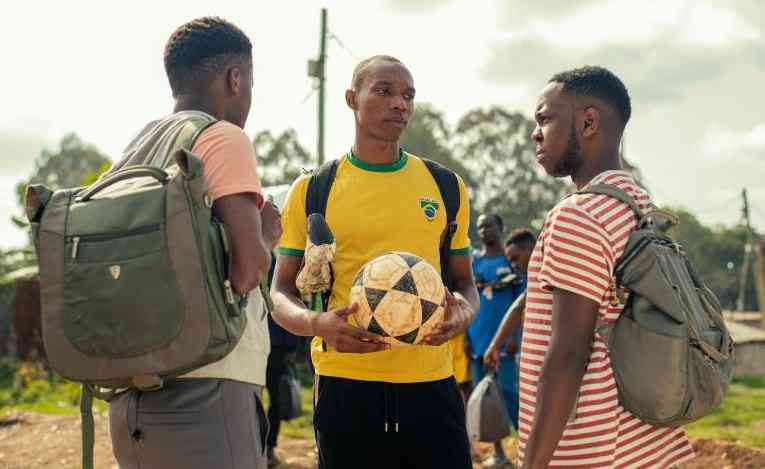 There was soccer in the air at the premiere of Showmax's new series, Pepeta.
"Pepeta follows three intertwining stories. Junior is a 17-year-old talented footballer torn between the thrills of crime and the promises of soccer. Kepha is an unforgiving cop with a personal vendetta, determined to rid the streets of criminals. And Biki is an ambitious football coach determined to get Junior and his friends scouted before the barrel of the gun cuts short their dreams," a Showmax statement on the series reads in part.
"Pepeta stars Brahim Ouma (Famous) in his first-ever lead role as Junior. The cast also includes Malik Lemuel, who makes a major comeback since Machachari, Dedan J. Onyango (The Real Househelps of Kawangware), Lwanda Jawar (Sense8), Avril Nyambura (MTV Shuga), George Mo (Borderline), Wycliffe Eravuna (Selina), Marrianne Nungo (Supa Modo), Brian Ngaira (Baba Twins), and newcomers Eric Aswani, Fridah Mumbe and Suzanne Karani."
Director Vincent Mbaya said one of the special qualities of the show is the fact that it is loosely based on the real-life experiences of one Harun 'Rio' Wathari.
"When I was auditioning for this show, my mum was admitted to Kenyatta National Hospital. She had been in an accident and could not feed herself or care for herself at the time," said Dedan J Onyango, an actor.
"On this audition day, I was the only one who could feed her. I did not know if I was going to be considered, because physically, I did not fit the character's descriptions. But I gave it a shot. Unfortunately, my mum later passed away. What happened is that I got the call-back that I had got the part the day after she died."
Related Topics