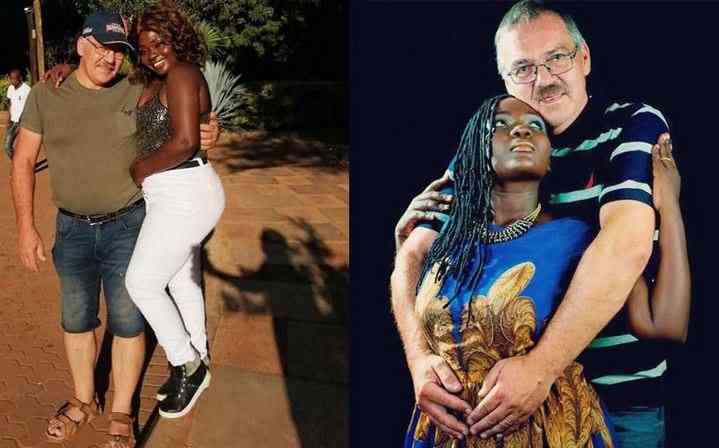 Coast-based singer Nyota Ndogo has turned down her Danish husband Henning Nielsen's offer to buy her the latest iPhone 14.
Giving her reasons for turning down the gift in a video shared on her social media, the Watu na Viatu crooner stated that she already owned an iPhone 11 in perfect condition.
"I don't want iPhone 14. Who said I want a phone? I have iPhone 11 that's enough for me I take photos, I can hello and another person can hear me say hello. That is enough. I don't want iPhone 14," she told her husband, who was busy trying to order the phone on his computer.
Instead of the iPhone 14, the mother of two suggested her husband buys her land in Kenya, where she will build a restaurant and eventually their retirement home.
"You know what I want? We can buy a land in Kenya and we can build a restaurant. So when you retire, you don't come to Kenya and suffer, we have our own restaurant," she added.
For Henning, however, Nyota Ndogo could have the phone and the land.
"Okay, I see. You can have that and iPhone," he responded.
Henning's offer to gift Nyota Ndogo an iPhone 14 did not surprise many as he has been spoiling her with luxurious gifts since getting together.
About a year ago, Nyota Ndogo was gifted a brand-new BMW after casually mentioning she desired one in a conversation.
Flaunting her newly acquired German Machine on her social media, the elated singer thanked God for 'a husband who listens whenever she coughs'.
"Kwanza kabisa nataka kutoa Shukran zangu kwa Mungu. Ahsante kwa Mungu kwakunipa mume ambaye nikikohoa tu anasikiza," she wrote in part.
Though the couple's relationship seems on the right track, this was not the case a few years back after they almost ended their relationship following Nyota Ndogo's April's Day prank on him pretending to be pregnant.
"I never thought he would take this so seriously. I made the joke at 8am and come 4pm, I told him it was a joke but by that time he had taken it seriously. He has been silent on me since, something I had never foreseen happening in the last seven years we have been together as friends and as a couple," Nyota Ndogo said.
The silence between them went on for months until Nyota posted a picture of herself in the company of another man that forced Henning to break his silence.
"Shida yangu mimi ni kunyamaziwa miezi yote. Yani @pday wewe ndio umesababisha huyu mbabaa aongee? Kwaivyo alitaka niishi kama mti?" she wrote.
Related Topics