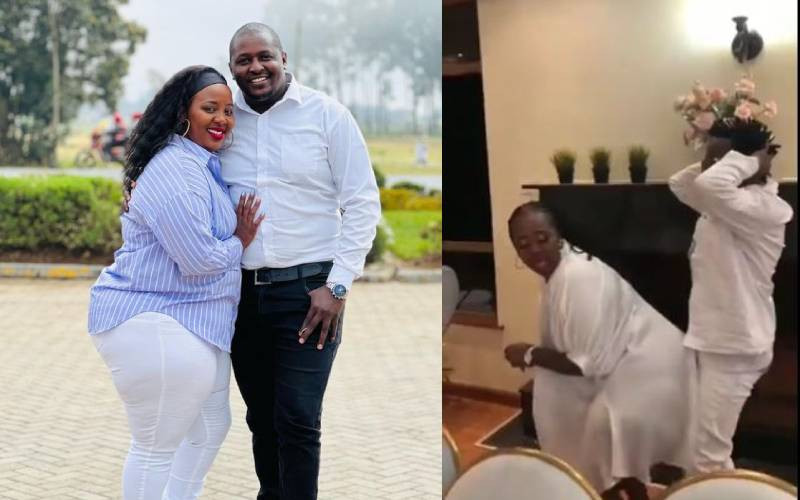 Comedian Terence Creative has finally responded to the viral video of his wife, Milly Chebby having a raunchy dance moment with singer Bahati.
Addressing the matter in a phone interview with Milele FM, the content creator disclosed that he saw no problem with the video, contrary to netizens expectations.
According to Terence, the dance was completely harmless and at no point felt jealous adding that he too would have done the same with Diana.
"I don't see any problem with that video. I'm very okay, or have you heard news that I have been admitted anywhere? I don't feel jealous at all. Ye anachemsha maji si tunaogea. Ata yeye namchemshia tu maji anaenda anaoga," he said.
In his explanation, the video was taken long ago and does not understand why nosy social media users want to make a big deal out of it.
"That video was taken long ago, I don't know why it is resurfacing now. I was there too and as you can see Diana wasn't even pregnant. Those gossipers just want something to talk about," he added.
The two celebrity couples have been close friends for quite some time now and have been spotted hanging out in public on several occasions.
Terence and Milly on the other hand are known to be very close and are constantly making content together alongside other creators without any issue.
Professing his love to his wife in a previous social media post, the father of three thanked Milly for making their union worthwhile.
"Let me say something maybe I've not said, I really love my wife because she stood by me through whatever I've been through. If it was someone else, I would have not told about messing up and questioned what to do because we're in a union. Marriage is not about perfection but progress. It's all about support and I thank her," he wrote.
Speaking of a progressive marriage, the two love bird's relationship almost hit a dead end a few years ago after it was discovered that Terence stepped out of his marriage.
Luckily for them, their love conquered all and have continued to build their marriage and family in love and truth.
"In the last ten years we have challenged, tested, pushed, pulled, fought, raged and cried together. And what it has taught me is that being in marriage isn't that perfect, it requires a lot of effort navigated by CHOICE. It is a choice we make every day and with the choices we make every day becomes 1 year, 5 years and now 10 years, and cheers to a lifetime @terencecreative," wrote Milly in celebration of their anniversary.
Related Topics