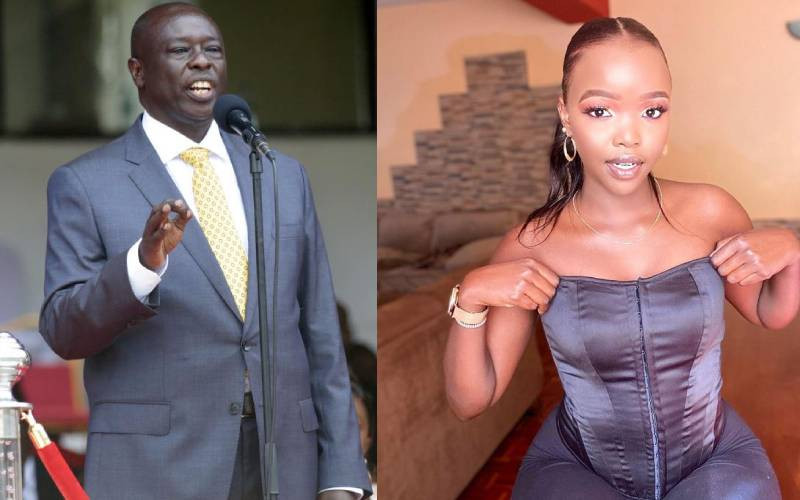 Deputy president Rigathi Gachagua has become a popular personality among the youth, with his name trending on Twitter almost weekly.
Today, the DP found himself on the trending list following his interview on Citizen TV, where he promised to gift the creator who came up with the moinker 'Riggy G.'
Gachugua had acknowledged that his full name could be a mouthful for some people and that the nickname Riggy G sounded more pleasant.
For that reason, Gachagua said he took up that name and aimed to encourage the youth in the creative industry.
"The young lady who decided that Rigathi Gachagua is a little bit difficult and not melodious, we need to give him the name Riggy G. To encourage our young people, I took up the name," said Gachagua.
The creator is Ivy Chelimo and goes by the name 'Shawty for nicknames' on Twitter. She is a lifestyle content creator and a recent law graduate from the Catholic University of East African (CUEA).
And for her creativity, Gachagua asked his sons to look for her and offered to gift her some cash from his salary.
"I have told my sons to look for that girl to come we have dinner. From my salary I can boost her to do something," added Gachagua.
On Twitter, Ivy reacted to Gachagua's remarks saying, "I have shed tears but never like tonight. Waaah God really saw and heard me."
Gachagua's move to reward the young lady was lauded by many who thanked him for supporting the creative industry.
"Thanks for supporting art your Excellency," wrote Terrence Creative, who was seconded by Chris Kirwa saying, "Riggy G to The World."
Ahmad Kilachi wrote, "Everyone has their time to shine. What's amazing is you never know when or how. It just happens when you least expect it. Let the lady shine."
Farooq Mohamed said, "Mhesh @rigathi is having one of the tactics that can keep youths intact, active, hardworking and happy, very few politicians in Kenya talented in this ?."
However, others hilariously responded and laughed at the idea of Gachagua sending his sons to look for the content creator.
Peter Seleka said, "The funniest thing is that Man Riggy G..want his son to be the one looking for the young lady, I think he hii ni kupanga kijana kinjaro."
"As a Good dad ? he sent his sons to look for this young lady?" asked Frank Magara.
In a previous interview, Ivy said that when she first came up with the nickname, she never thought it would become popular as it went unnoticed. However, the name went viral on Twitter during the deputy presidential debate in July, and her account was later established to have tweeted the name first.
Ivy said she would have loved to meet the deputy president and ask him what went through his mind during his speech at the inauguration.
"I feel like I'd ask him about the speech, like what was going on in his mind during the speech. His line of thought is something that I would like to understand," said Ivy.
Related Topics