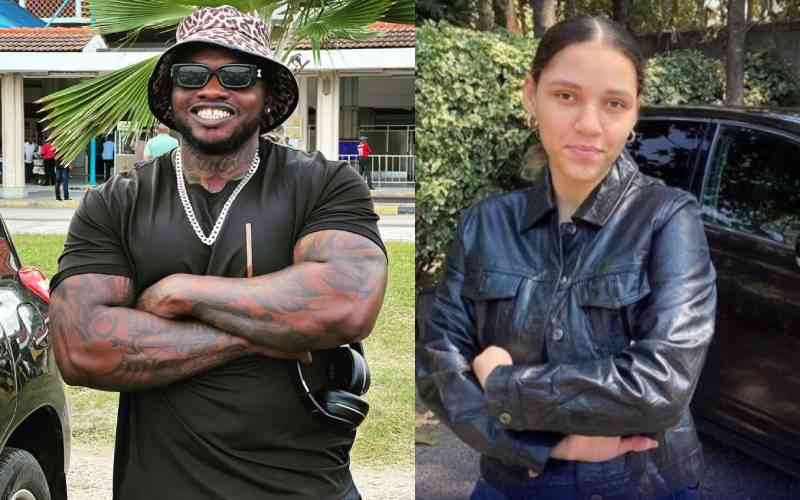 Rapper Brian Ouko Omollo aka Khaligraph Jones, has gifted his lover Georgina Muteti a brand-new car. Taking to social media, Georgina expressed gratitude to Papa Jones, as he is popularly known, for gifting her a luxurious Toyota SUV ride.
Referring to Khaligraph as daddy, the mother of three posted a photo of herself standing next to the new car, saying she loved it.
"I would buy you benzo lakini mbona? It is okay baby, I love this one better. Thank you so much daddy," she wrote.
Just a month ago, the two welcomed their thirdborn after keeping the pregnancy news under wraps for a while. The news, which came as a surprise to a section of their fans, was announced by Khaligraph, who shared a video of himself holding the newborn and singing the song Girl Like You, revealing that their thirdborn was a baby girl.
Speaking about her latest pregnancy journey, Georgina narrated a time that she and her partner went for a movie date, but she couldn't unpack some of the jokes shared. Georgina said she kept on distracting Papa Jones, who eventually asked her to note down all the jokes, which he would explain when they got home.
"Some of the jokes in the movie were pitiaing me. I kept asking my love why people were laughing and he told me to write all of them down he would explain them at home," she wrote.
While she was pregnant with her second born, Georgina was forced to address claims that she was then expecting twins due to the unusual size of her baby bump.
"Please, I'm not having twins, I can confirm that for sure going by the ultrasound I been having, I get my bump is huge. Look at how large the father is, y'all really thought I was gonna have a bump the size of a tennis ball?" she wrote.
However, she later confessed that her delivery period was not as easy compared to her first pregnancy, adding that she had to deliver her son through an emergency caesarean.
"That was only after changing hospitals twice, switching doctors last-minute and believing in myself. Through prayer and screaming during labour, I delivered my son. I'm a happy and tired mum of two now! #2 weeks Btw I forgot how hard having a newborn is and breastfeeding," wrote Georgina.
Related Topics