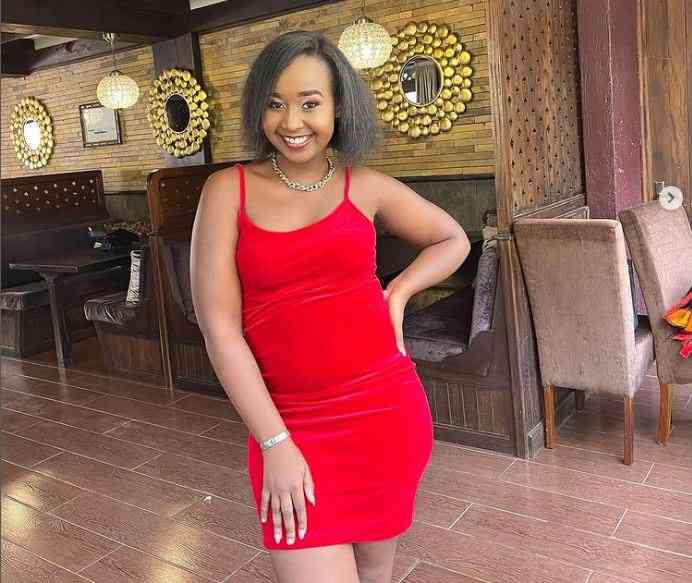 Pulse: Are you getting used to speaking to the media since rising to the limelight through the Kyallo Kulture sisters' TV show?
Gloria: Well, every time I speak I find myself saying the wrong thing and that is what ends up trending (laughs). It is about panicking. I remember the interviews I did during the launch, oh my God!
You said you have been busy at home taking care of your puppies. Tell us about that.
Yeah! My four puppies are 13 days old. My mum offered to come and help since I had moved out into my own house. My puppies have made me happy and coloured my life. I think I was sad for so long. I will give three to people I believe will take care of them. I have decided to keep one and I have named him Lucah. I have loved dogs for as long as I can remember. The first one was called Brownnie. I got him when I was like 10 years old.
You are pursuing a Bachelor of Arts in Psychology... Why psychology?
It is a very interesting course. I started with a diploma in counselling. Counselling was fun but psychology is very technical. I didn't expect it to be all about theories. So far so good. I am enjoying it and I can relate everything I am learning to my real life. That is the beauty of it. You learn people's behaviours and work on how to solve solutions. Since I was in Class 7, I wanted to do this after we started a peer counselling club in school.
You appear very bold in the Kyallo Kulture Show. Is that how you are in real life?
There is something about cameras. When they go on, there is no you there. You are conscious. Honestly, the environment is different from real life and that might make you act different. There is that pressure to act perfect.
Did you see yourself going into acting before you and your sisters came up with the idea to record a reality TV show?
I had not even thought of the idea of cameras around me. I am a very private person and so when the idea came up, I was like 'hell no'. There is no way I will get my life out there. However, my sister told me how it could work as a platform for me and my career. I was and I am used to doing Instagram stories in front of my cameras but this was truly new to me.
What was the main challenge for you?
There was no one to prepare me as much as it was fun and we were just living our lives authentically. I never got any explanation like from a real-life reality star and if I had known what it is I probably wouldn't have started. It has been a good journey.
How has being in the limelight changed your life?
Before this, I had like two friends from my previous school as I am not a very social person. After the show, people I was acquainted with started talking to me and becoming friends, which was scary as I constantly wondered if they would still be friends after the show ends. I didn't really like the attention. There is a day I came across this group of girls talking about me and the show and I even overheard one say I am 19. I followed them and said… "hey, I am 21". While in the limelight, you have to keep protecting yourself and the people you love as much as you have to keep smiling.
Do you always get along with your sisters Betty and Mercy?
No! We are women. Someone is gonna take someone's jeans and it's gonna be ugly from there. That happens. We are human. I mean, sometimes it gets messy. We have different personalities and opinions are expected to differ. I learned a lot from Betty growing up and I think her caring about people is the best thing I learned from her. Besides, I have a strong personality and I would say I just want to be me.
You are only 21 and basking in fame. What is life like now compared to your peers?
Well, my peers are doing TikTok, attending events, influencing, doing business online…well…in university and college. It is a generation that is self-conscious. Personally, I am an old soul who might not know a lot about what is happening out there. This generation is moving away from relationships because they feel like everyone is going to break their hearts. I think that is a bad thing. Love is a beautiful thing.
Talking about relationships, let us talk about your boyfriend and how it all started…
I met him at university during the first semester. It must be cliché as he was also a fresher like me. He was a friend to my friend and we liked each other so I never saw it coming. Later on, they stopped talking but he and I kept close. I was healing from a previous relationship and so I slid in and never looked back. During our first anniversary, he gave me a ring and I think I lost it somewhere…We call each other bro…He tells me that I will be a wife, something I am opposed to. I want to enjoy the now and my youth for now.
Related Topics