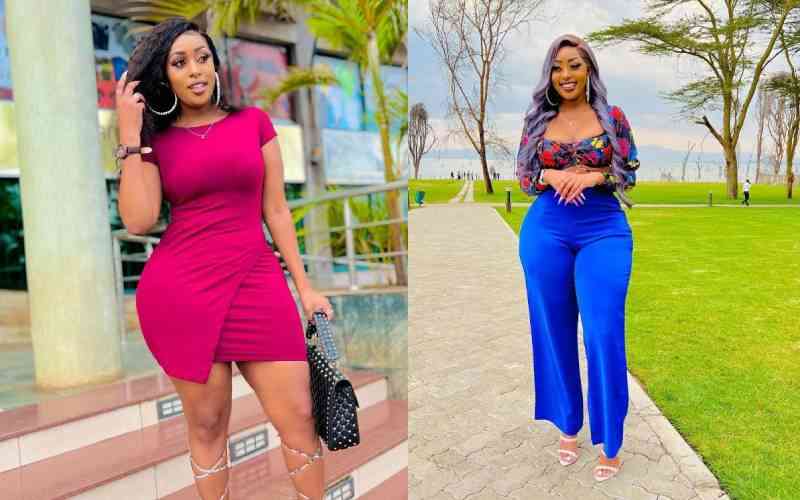 Socialite Amber Ray seems to have made up her mind to let things that happened in her past go, including her ex-lovers.
Opening up on constant arguments with her exes during a recent interview with Eric Omondi, the social media influencer explained that all she wanted was for her ex-lovers to stop being bitter and move on.
In a message to all her former boyfriends, Amber begged them to focus on their good moments and not drag her name because things ended between them.
"I have a few words for my exes. Please, my exes, we had a good time together, so guys just let it be that. Let's just leave all the bitterness behind. You can never destroy me with what you think you have over me. So let's just love and focus on us, the beautiful memories, that's it," she said.
This comes amidst constant back and forth with her Sierra Leonean ex-boyfriend Kabba who accused her of not being in love with him, adding that she only agreed to their short-lived relationship to make herself more known.
"I feel sorry for your family because you don't have anybody to advise and talk to you about your life, all the people around you are useless. At this moment you need prayers. I feel sorry for you trust me you are using me to catch cruise but I wish you good luck we move."
"I don't have anything to say anymore we are talking about the reality you are talking about social media. If you like live fake for all I care," he lamented.
Amber started a new relationship shortly after the duo announced their break-up, a move that Kabba explains was not surprising.
"I don't think everyone is surprised that Amber Ray has moved on. If I knew the kind of person she was from the start, I would never have been involved with her. I don't regret what we had, but it seems that she has moved on many times before," he went on.
The shock, however, came after the socialite introduced Nairobi businessman Kennedy Rapudo as her boyfriend. According to Kabba, Rapudo was introduced to him before as Amber's friend while they were still dating.
"It's so funny because after introducing a man to me that he is your friend, we even had fun together, all of a sudden he's your boyfriend. It means you guys were having an affair behind my back when we were still dating. It's crazy! Fear women," he said.
Amber's other exes have not said much as most of them accepted their split and have now moved on with their lives.
This includes Jamal Roho Safi, who recently jotted an apology to his wife for putting her through shame and humiliation while dating Amber.
"Most of you, if not all, know what happened between me and my wife and how we came to the limelight; To say the least, it was chaos! It was messy! It was downright ugly! I may have seemed unbothered, but I was helpless. I knew it was wrong, I knew you were hurting, but I just couldn't get myself together! Amira, I am doing this because the disrespect was also as loud. I apologize for all the disrespect, for all the embarrassment, for all the hurt, for all the pain, for all the trauma," he wrote.
Related Topics