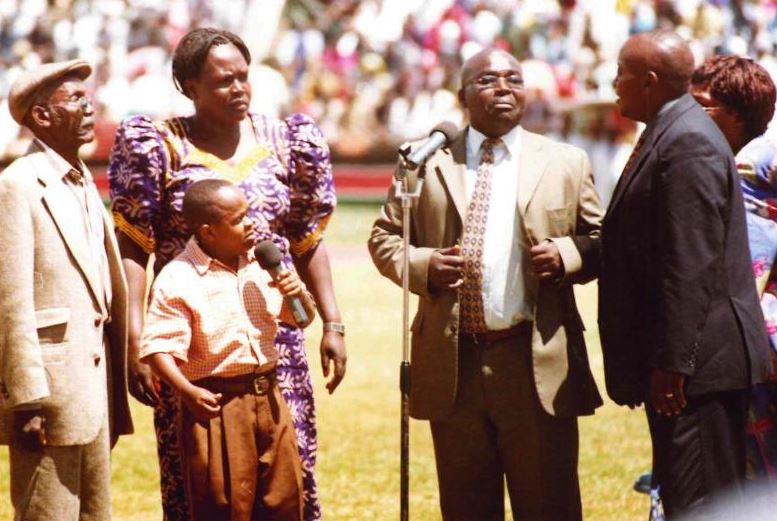 When thinking of Kenyan comedy, Daniel Ndambuki famously known as Churchill comes to many people's minds. Give it up to the funny man. Having made his debut in comedy back in 1996, Churchill has become a household name thanks to his Churchill Show TV comedy.
To many comedians, among them MC Jessy, Captain Otoyo, Eric Omondi, Chipukeezy and Owango Onyiro, he is a father, a mentor who has created a platform and opportunity to nurture comedians' careers. Many comedians in the country owe him recognition.
However, before Churchill took over the entertainment scene, we had the Redykyulass crew of Walter Mong'are (Nyambane) John Kiarie (KJ) and Tony Njuguna - bold rib-crackers who made all manner of jokes and even dared mimic the then President, Daniel arap Moi.
This is the trio that gave birth to the current crop of comedians in Kenya after they first hit the airwaves in 1999.
But that is not all. Kenyan comedy comes from far way back before Churchill and Redykyulass. Forget Phoenix Players, Professional Centre and Alliance Française, Nairobi; and creative hubs where you can get traces of the making of the Kenyan theatre.
The analogue generation had its own in the name of Vitimbi, Vioja Mahakamani as well as the street acrobatics and comedy groups that had punchlines so quirky.
A week ago, Vioja Mahakamani Prosecutor, Gibson Gathu disclosed he is battling diabetes and kidney complications. He made a medical appeal, noting he is set to undergo a kidney transplant in July.
"Dialysis is expensive. Your insurance cover gets exhausted and you start spending off your pocket. You know, insurance is limited. Every time you visit, the dialysis costs Sh10,000 upwards and you have to go three times a week," said the father of four.
He pleaded with Kenyans to help him raise Sh6 million for the transplant and post-surgery care.
"The cost of surgery is not that expensive. What is expensive is the post-surgery care because those drugs are expensive," he said before the fundraising was organised to raise the fee, one that realised an overwhelming response – with President Uhuru Kenyatta offering Sh2 million.
Gathu's predicament takes us back down memory lane when Vioja Mahakamani was a big local TV production. They were the ultimate comedians during what can be termed the golden age of comedy.
Spanning nearly three decades, the show had household names among them Hiram Muigai (Ondiek Nyuka Kwota), Mathias Keya (Makokha), Lucy Wangui (Judge) and Peter Sankale (Olexander Josphat).
After years together, their reign at KBC (Kenya Broadcasting Corporation) came to an end with part of the group moving to KTN to create a new outfit in the name of Daktari. Now, the group has regrouped and gone back to where it all began.
"I will go back to acting. This is something I have done for almost three decades. I also take pride in mentoring the young because they are the future stars. Kenya needs to hone talent. It is important to have a National Art Policy that will ensure tracking from a young age as well as integrating arts into our nation's domestic and foreign policy objectives," said Gathu.
He urged the government to invest in the arts and take the lead role in supporting and tapping creative talent.
"The entertainment industry is dynamic and unlike in our time, there is more money nowadays. You might be tempted to move to an upmarket estate after landing your first gig.
"Eat some, but save some. We were taught that if you cannot manage Sh5, then it will be difficult to manage Sh5 million," said the legendary actor as he advised the current generation of internet sensations to save and invest during their prime.
Vitimbi was another celebrated comical show, one that brings back memories of the highlights that used to mark the entertainment session of national holiday celebrations with President Moi laughing his heart out.
The main characters in Vitimbi were the late Benson Wanjau aka Mzee Ojwang Hatari, who died in July 2015, and Mary Khavere, best known as Mama Kayai.
In fact, in a past interview, Gathu is quoted to have said that Mzee Ojwang died in a sorry state as the actors then did not earn a decent living because there was no art policy in Kenya to cushion creatives from exploitation. Mzee Ojwang is buried at Langa'ta Cemetery.
During his comedy era, many fans were convinced that Mzee Ojwang was Luo as they enjoyed his witty punchlines and laughable dramatisation that betrayed the fact that he was indeed a Kikuyu.
That was Kenyan comedy in the 80s and 90s. Back then, comedy was sane and decent and purely made to educate and entertain. It had empowering moral lessons and no forms of vulgarity, as has been noticed among some of the comedians of the current age.
In this crop of pioneers will also be remembered Othorongong'o, Masanduku arap Simiti, Amka Twende, Bwana Tumbo wa Maina, Tama Bin Tama, Baba Zero, Masaku, Mwala and Otoyo Obambla.
Related Topics