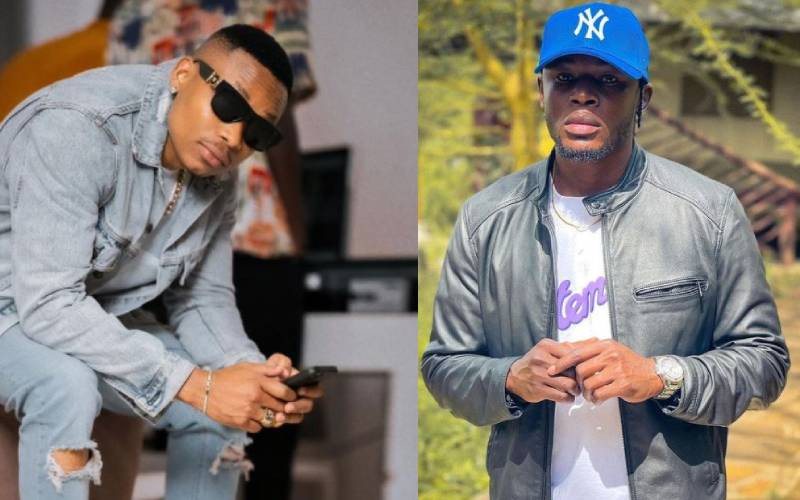 Kenyan R&B singer Jacob Obunga aka Otile Brown, has said that he and performing artiste Ali Yusuf, alias Arrow Bwoy are yet to reconcile. In an interview, Otile said that he had respected Arrow Bwoy so much until he (Arrow Bwoy) chose to disregard their agreement over a song they had done together.
According to Otile, they had agreed not to release the said song since, in Otile's opinion, the song was 'old', adding that he wasn't ready to release it just yet.
"We had talked and Arrow Bwoy is among artistes I respected so much. I respect all of you and I fear God so much. Arrow Bwoy asked me if we could release the song and I said we couldn't release since that song was from the past but he went ahead and released it," he told Presenter Ali.
Otile Brown took offense to Arrow Bwoy's actions which, according to him, were a level of disrespect to his craft.
"He ignored us and released the song. I have to be comfortable with a project before I release it. I will tell him even when I meet him," he added.
In March this year, Otile Brown took to social media to demand that Arrow Bwoy pulls down the song in question. Sharing the demand via Instagram, Otile added that Arrow Bwoy's actions were not only inconsiderate but unprofessional.
"Why drop an album with an old unfinished song 'demo' that I warned you several times not to release. So, you will go against my will just to win or not care if my brand is on the line… that's selfish, inconsiderate and unprofessionally of you… its though. I have been nothing but good to you. You know am not with the bull ish* why, why, why even try weak. Now take it down asap," he said.
Responding to Otile's claim, Arrow Bwoy maintained that after doing the song together nearly two years ago, the two never really agreed on whether to release it or not.
"I did the song, 'Show Me', about two years ago. Otile went to the studio and he liked it and he recorded his part. I didn't see the post but if he called me out, I am ready to reconcile with him. I will look for him," said Arrow Bwoy.
Related Topics