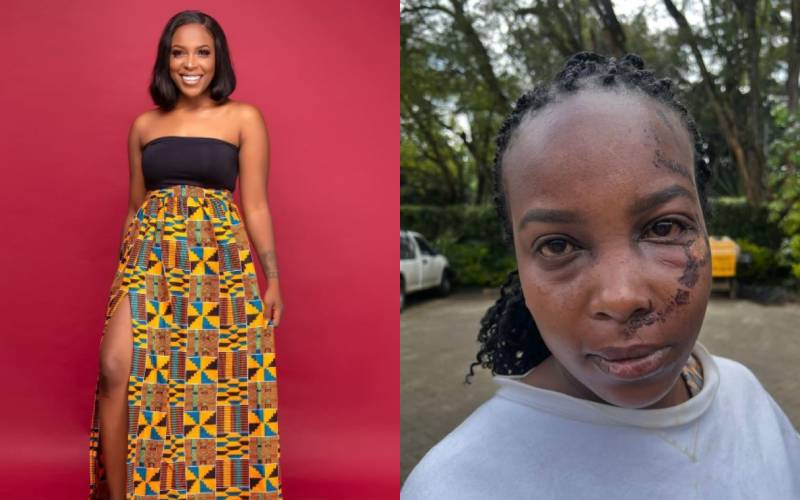 Content creator Murugi Munyi previously known to her fans as Yummy Mummy's younger sister, Dora Obwaka, has opened up about being involved in an accident that left her face scarred while intoxicated.
Narrating the incident to her fans on social media, Dora, alias Jesus Girl termed the accident as a testimony explaining that she was going through a lot at the time and God needed to reveal Himself to her.
"God can turn it! I've never been one to shy off from sharing my testimonies, but this one I must admit has been one that hasn't been all too easy to share for many reasons, but the Lord has been pressing it on my heart and even if it's for one soul it will all be worth it. This picture was taken on the 12th of May, the result of my injuries was a motor bike accident in which I was thrown off face first. I was intoxicated at the time and had been for a number of days continually," she wrote on Instagram.
View this post on Instagram
According to Dora, the past few months have been anything but easy. The social media influencer said she opted to get high to escape her reality from dealing with depression and anxiety to being in an unhealthy romantic relationship.
"The last many months have been the most difficult of my life. Dealing with anxiety and depression, where there seemed like there would be no end. Life seemed hopeless and everything had lost its meaning. Nothing could bring me joy. The only way I knew how to numb the pain was through getting high and being with a guy I knew I had no business being with. Those were my comforts. My way of 'breathing'", she said.
Fortunately for Dora, she once again found hope in Christ. In her explanation, giving her life to God and surrendering her burdens and worries improved her life.
"Since then I have experienced HEALING beyond words. I can't explain how God has met me. I have a peace I haven't felt in the longest time. I have joy and gladness. I have purpose. I am a FIRM BELIEVER that God is able to do as His Word says ABOVE all we could ever ask think or imagine. So many good things have happened since and I can't wait to share!" she wrote.
In a previous interview with former KTN News anchor Grace Kuria, the YouTuber recalled her difficult days battling drug addiction.
"Sometimes it gets to a point where you are the slave and the drug is the master," said Dora.
In December 2019, Dora won her battle against drug use and rebranded herself as Jesus Girl, using her platform to teach youths against the use of drugs.
"I'm happy, and at peace, and glad for the chance to restore my relationships. I'm also building my brand — 'Jesus Girl' — to empower youth and give motivation about doing life and doing it right. I also would like to be a voice of hope and encouragement to people who are broken. And that can be across every walk of life, not just people who have been in addiction," she said.
Unfortunately, she relapsed in 2021 and is in the process of getting her life back on track.
Related Topics