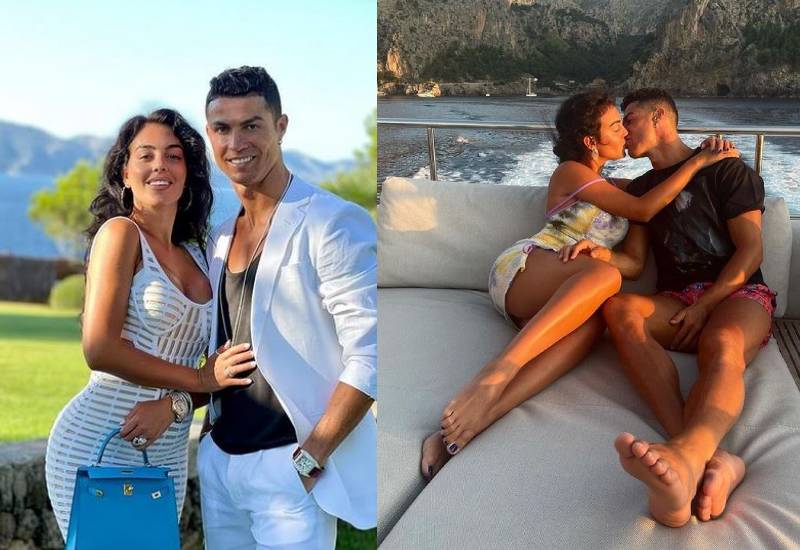 Cristiano Ronaldo on Friday lit up the tallest building in the world, the Burj Khalifa in Dubai with his girlfriend's face, to celebrate her 28th birthday. Pulling off the romantic gesture is said to have cost the Manchester United player approximately Ksh 7.6 million.
Georgina Rodriguez's face was projected on the entire building through a special laser show which also showed clips from Rodriguez's Netflix docu-series, I Am Georgina. The words "Happy Birthday Gio" were splashed on the building for the world to see.
Ronaldo, currently the world's highest paid football player, posted a 36-second clip of the gesture on his Instagram page with the caption, "Muitos parabéns meu amor (Many congratulations, my love)". It has been viewed over 39 million times.
Rodriguez, was swept off her feet, commenting (translated), "This exciting day is over, I cannot articulate words, thank you, thank you, thank you Cristiano Ronaldo. You make me happier every day. Thank you Dubai for always treating us so well and making us feel at home. Thanks to all of you who have worked to make this day so special. And thank you for always rejoicing in my happiness and that of my family. I love you with all my heart."
Rodriguez's sister was also impressed by the amorous move, as she commented, "De verdad???? INCREÍBLE!!!! Gracias, cuñado, por esta sorpresa para mi hermana (Really? INCREDIBLE! Thank you, brother-in-law, for this surprise for my sister)."
The lovebirds met in June 2016 when Rodriguez when she worked as a sales assistant at a Gucci store in Madrid, Spain.
"Days later we saw each other again at another brand's event and it was then we could talk in a relaxed atmosphere, outside of my work environment. It was love at first sight for both," she told Elle Magazine.
In October 2021, they confirmed Georgina was pregnant with twins. The two have a child together, Alana Martina, who was born on November 12, 2017. Ronaldo also has three more children whose mother are unknown. They are Cristiano Ronaldo Jr, 11, and a pair of 4-year-old twins 4-year-old twins, Eva Maria and Mateo Ronaldo.
Related Topics