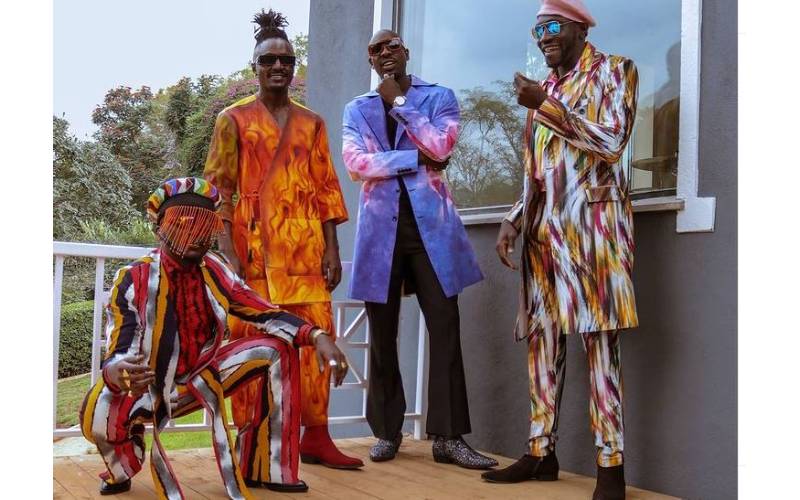 Sauti Sol's vocalist Bien Aime Baraza has clarified that the Kenyan afro-pop band is not coming to an end. In an interview, Bien admitted that the four members have embarked on solo projects but quickly clarified that their new path is not a split, but a strategic survival means.
In October this year, the multi-award-winning band announced they were embarking on a new project dubbed Alone-Together. In a press statement, the band revealed that the move was geared towards boosting their self-growth as individuals.
"The result of deep reflections that we experienced as individuals and as a group, leading us to craft the ultimate expansion of our musical and artistic legacies. It is the unique next chapter as brothers that ties with our natural progression of self-growth, while still being a single unit. The journey is a 4-part musical and visual art series for you and the world with the hopes it enlightens you to who we really are; 4 phenomenal parts that make 1 iconic whole," read the statement.
According to him, the Covid-19 pandemic forced them to think outside the box, adding that their Alone-Together project was rolled out to keep each member's talent active and earn an income.
"Our livelihoods were taken away from us. We did not have shows in the format we were used to. We had to move everything to the virtual space. We quarantined together for a month just so we were able to create and stay active," said Bien.
Bien further added that the Alone-Together project is also an opportunity to detach each individual from the band and let them explore and achieve greater things individually.
"This was a chance for our fans to get to know us as individuals because most of the time, people are used to seeing Sauti Sol as a quartet. Everyone has his own personality and philosophy. Polycarp is a father, if he sings about the experience of fatherhood, I cannot relate because I am not a parent. I am a bald man, so Chimano does not understand the philosophy of a bald man.," he added.
Narrating the details about the solo project, Bien insisted that the band was not splitting and added that they were stronger and more connected than before.
"All our music including individual singles are on Sauti Sol's YouTube platform. That is because it is our channel and we built it together. We are brothers. Sauti Sol the entity works under Universal Music Africa in which we have one more album left. The solo projects are under Sol Generation. The contracts are not the same," he added.
Related Topics