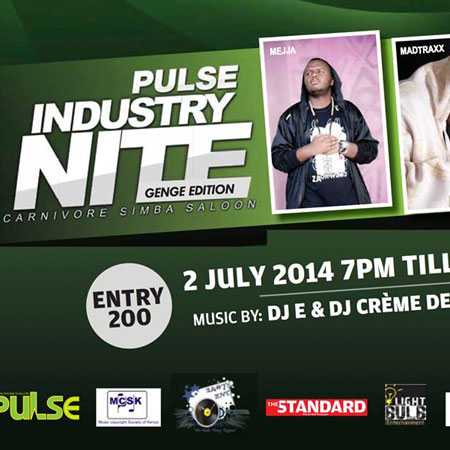 When Kenyan Genge met the Pulse
Whenever the word Genge finds its way into a conversation, the image that forms in one's mind is that of a slender Nonini in his Timberland boots covered by a blue jeans, a hard-to-miss twice-his-size red Calif Records T-shirt and a shabbily dressed Jua Cali ostensibly pulling stunts on the videos' background.
Genge has since come a long way from the days of low-budget music videos shot on the staircases of Eastland's' California estate. That's if the happenings of last Wednesday night at Carnivore's Simba Saloon are anything to go by.
Sitting on one section of the legendary club to witness Pulse Industry Nite's Genge Edition were a bevy of beauties ready to witness what magic Genge artistes and a live band could bring to the table.
They chose to sit further from the rest of the audience and close to the backstage section supposedly to mingle with the 'right' crowd. Meanwhile Pulsers continued to come in their dozens. A suit-wearing Jaguar was easily passable among the audience, sitting calmly in the mid-section of the vicinity with his entourage.
Backstage, things had started to gear up by 10pm as MC of the night Calvo Mistari welcomed one of the curtain raisers of the night, Nessa to perform. Like a rookie reckoning they had only one chance to prove themselves, Nessa delivered a powerful cover of one of Beyoncé's singles and stamping her name as an RnB diva.
Hitting the notes just right and exaggerating them in some lines to gloat her amazing vocals, the singer had the audience applauding and cheering her on long after she left the stage.
This ultimately made it difficult for the next performer nervous given he was from a different genre. Nevertheless Hip-Hop Hook-up patron and rapper of the Ndizi Flow fame, Smallz Lethal, did not disappoint as he got the crowd amazed in his energy and stage presence.
Dressed in his trademark hoodie and a white T-shirt, Mejja came on as the first of the main acts of the night. He came on stage dancing to a Lingala beat by shaking his flabby body. Backed by a live band, Mejja synchronised some of his lyrics with the beat from as far as the Franco era, getting the more mature audience present entertained as well.
Not known majorly for Genge genre, Madtraxx was up on stage next. It was not immediately clear why he had opted to put on his shades on stage at that particular hour. It would all soon unravel.
Lazily performing on stage, Madtraxx seemed to be a tad tired as he more than once awkwardly stopped the DJ from playing the track so he could give a monologue speech. One of these speeches was him explaining how he got motivation to make some of his tracks, which was all good until he finished with an 'I Love You...' three times directed to his brother Styles in the vicinity, and in a sloshed, sombre, tone like a man making his suicide statement before jumping off a cliff.
In the middle of his performance he also fell down only to get up more than a minute later to swear this was going to be on YouTube as soon as the sun came up the following day.
By his next monologue, the organisers had already had it. DJ Crème de la Crème was seemingly given the cue to get rid of him by playing music to cut short his performance as a patron came to take him off stage subtly. His night was done.
Away from the drama, the night was far from over as Jua Cali came next on stage to deliver a powerful performance to prove that he was the Baba Yao. He got everyone in the vicinity especially the ladies to come next to the stage as some got the chance to dance with him as well.
Within no time, Chess got on to the stage to sing along the songs and became the unofficial backup singer as she was handed the microphone. She did a great job without missing a single word on a number of Jua Cali's hits much to his amazement.
The night did not end with Jua Cali's performance as the Pulse crew mingled and held a tête-à-tête with media personalities including Brian Oduor former Easy FM presenter and now 1 FM presenter, Twitter bigmouth and radio presenter Saliva Vic and model Khalif.
Related Topics