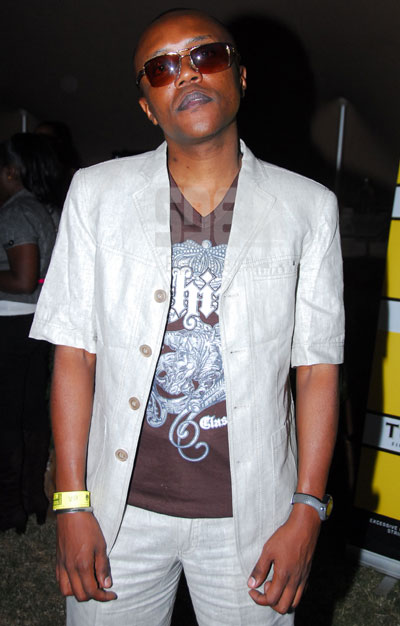 Radio presenter Maina Kageni
By Esther Muchene
Recently, an online site, Kenya Online Newspaper published a story titled Classic 105's Maina Kageni finally comes out: I am gay.
The interview quoted the prolific presenter as having made the decision to speak out as "…there comes a time when a man has to face the truth and let people know who he really is; I cannot continue living a lie".
The author even quoted this magazine on a photo we published recently of Maina kissing a woman at an exclusive function. The photo had caused a buzz after years of a sustained rumour that the radio host likes men.
"I am not married. I love and respect women, but the person I marry will be a man." The story quotes Maina to have said.
Pulse could not establish any facts from the piece. Many thought it was made up. Not even Maina could confirm it when we tried to reach out for his word so we treated it as any other rumour.During a past interview with Pulse, Maina denied rumours that he is gay contrary to grapevine news.
Once, for a celebrity to confess being gay was considered a potential career-ending acknowledgement.
Not anymore. Heck yeah!
It is barely a month since NBC's Jenna Wolfe and Stephanie Gosk announced that they had been a couple for three years, were engaged and also expecting a baby girl together.
"I'm actually pregnant. I'm quite pregnant actually. My girlfriend, Stephanie Gosk, who works here at NBC, and I are expecting a baby girl at the end of August," she said.
She is not the first celebrity to come out as dozens of Hollywood stars and even top musicians and socialites have in the recent past been on the spot with rumours of same sex relationships surrounding them.
Rapper Kanye West made headlines when he called for an end to homophobia in the rap community adding fuel to the rumours he is gay. Music guru Simon Cowell was the latest to rubbish rumours last week that he is gay, while Hollywood actor James admitted that it is partly his fault that fans think he is into men.
Well, locally as much as no celebrity has come out confessing to be practicing same sex relationships, a number of showbiz shots have been rumoured to be in the habit.
It may not be the case. If you are famous and happen to not have a partner for five minutes, chances are the Internet rumour mill will creak into gear and the "are they gay?" questions will begin to spread.
Some of our celebrities just ignore the rumours and refuse to comment on them, but others eventually snap and set the record straight.
A few months ago, showbiz TV presenter Ian Mugoya created a major buzz after photos of him pecking a man strewn all over the Internet.
His fashion sense of wearing tight pants, a style commonly attributed to gay men also fuelled the rumour. But talking to Pulse this week, the TV hunk denied the speculations. "I am not gay. I am dating an amazing lady. We started dating recently and we are getting to know each other,'' Ian told Pulse.
Asked what the public display was all about he said: "I am friendly like that with my friends, and no am not gay. I only date girls. Period.''
Former Capital FM host Laura Walubengo has also cleared the air on rumours of her 'loving girls'.
"What I can say right now is that I've been dating for three years,'' she told Pulse last Friday during a telephone interview.
While socialites like Jackson Irungu aka Miss Jay have come out publicly confessing their opposite sexual orientation, top celebrities like gospel star Jimmy Gait fell haunted by rumours of what some term as feminine behaviours.
''Of course I am not gay. How can I be? It is the greatest mistake I could do to God,'' the talented singer told Pulse.
Asked why people would make such assumptions on him, he said: "Gay people and others look at me from their own perspective. People look at you as they are.''
Another victim is award-winning pop singer Avril. After her lesbian photos went viral, every soul believed she was bi-sexual. Giving all sorts of excuses from the photos being photo-shopped, to them being an art school project, many still question her credibility, especially after the Chokoza hit track where she states, "…haujui kama napenda madem ama machali….''
The same issue has bedeviled Sauti Sol's Chimano whose publicist Anyiko, came out fighting in his defense.
"He has had girlfriends before and those allegations are just ridiculous because he is not. Trust me I know," Anyiko told Pulse.''
Related Topics