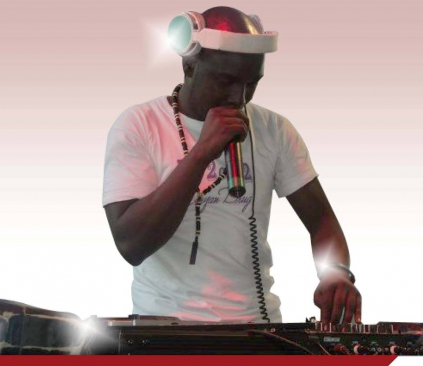 By Njambi Mungai (@njambie)
When he started looking for a gig to pass time, DJ 2one2 did not imagine he would end up being one of Kenya's most talented deejays. He not only plays in high profile Kenyan events and clubs but has also toured Rwanda, Burundi and Tanzania. He is currently a radio deejay at Radio Maisha.
Born Alphonce Tengelei, the solidly built yet soft-spoken disc jockey allowed us a peek into his 8-year journey from anthropology graduate to a deejay.
SDE: First things first, why the name 2one2?
2One2: *laughs* no particular reason per se, I was looking for something different. So the idea of having a name that starts with a number was cool and memorable.
SDE: Tell us where it all started
2One2: At a small village in Eldoret called Cheptiret, I was the last born to a Maasai father and a Nandi mother. I attended a local primary school before proceeding to Kapsabet Boys High School. Nairobi University is where I pursued my undergraduate degree in Anthropology though I would have preferred Electrical Engineering. I did however graduate with honors.
SDE: How did you move from Anthropology to the club scene?
2One2: During my wait for Campus admission, I was in love with music. In fact I was a rapper and even managed to record a single at the hottest record label in town, Calif Records, while in campus. I met a guy called DJ Dave who gave me my first deejaying lesson.
He had a gig at Kenyatta Market along Mbagathi and would let me mix during the wee hours of the night when the club was closing down. During this time, I also had a job at Kencall which I had to quit because the hours were just not working with my deejaying gig. I also quit my next job at Equity because I needed to follow my passion.
My big break however came when I was given a resident deejaying job at Club Asmara in Pangani. There I met Nonini and Dj Wesley with whom we introduced Kenya Nite which ran for one and a half years playing strictly Kenyan music.
This venture grew my brand to the point where I started playing at Tamasha Hurlingham before 1FM came calling. From there I came to Radio Maisha .
SDE: Deejaying has been likened to the influx of photographers and models. Do you think the industry is saturated?
2One2: Just a look at the quail wave, the simu ya jamii trend among others will reveal the culture of get rich quick among Kenyans. There is the wrong notion that deejays make quick easy money while in reality it is a tough profession and like all other professions a lot of hard work and dedication is needed. I do love that there are more entrants into the scene because it gives variety to the customers. At the end of it all, many will join the profession for whatever reason but only the best will remain.
SDE: Your work environment is what some would call a 'hotbed' for all sorts of social vices, how do you deal with it?
2One2: I for one do not drink alcohol or do any other drugs. Never tasted, never been tempted to indulge. This is probably the cleanest blood you will find on this side of the Sahara! The reason I don't involve myself with this is probably seeing first-hand the devastating effects of alcohol abuse. There is also the fact that I have been around this showbiz scene from back when I was young so the groupies and attention don't do much for me.
SDE: Speaking of groupies and ladies, are you married or single and available?
2One2: *Laughs* I am single! I do have a daughter that I absolutely love and taking care of but I am single and in the market.
SDE: What are your thoughts on the Pay to Play scandals that are rocking the deejaying industry?
2One2: I for one would never play a song that is not good content for my audience. I have never taken money to play a song by an artiste. Those deejays who might be doing that simply don't care about their brand or the profession as a whole.
SDE: What about the proposed compulsory 70% airplay of Kenyan music, do you think it is the right step for the industry?
2One2: It is more of a supply and demand market here. You cannot force us to play a song just because it is Kenyan. We play as much good Kenyan music as we receive but to be realistic, Kenyan artistes need to step up their game and deliver good and quality music. As long as there is more Kenyan music, we will play the music.
SDE: Music is a versatile product, what determines your judgement when deciding what your audience wants?
2One2: Trends. Every demographic has its own trends. We observe what the people love and what they ask for. Even when deejaying in a club, we see how they respond to the different kinds of songs. So artistes should keep a pulse on the trends so that they can fashion their product to fit their audience trend.
SDE: Who has influenced and mentored you through your journey in this industry
2One2: I owe a lot to DJ Dave who gave me the first chance to get into the profession and gave me a lot of guidance. I am also grateful to DJ Wesley who showed me the ropes of professional deejaying. I look up to DJ Stylez from code red and would love to work with him.
SDE: What next for 2One2?
2One2: My first phase of life is about to be over. I am soon going to retire from deejaying and build my own empire. I am working on pursuing my master's degree in Conflict management and resolution which I believe will put me in a position to make a difference for the people of Africa. I am a strong believer in Pan-Africanism and I would love nothing more than to tell the story of Africa while encouraging the solidarity of the continent.
SDE: When you are not spinning, what do you do for fun?
2One2: I love boxing, reading African literature and long drives in the countryside. I am also working on authoring a book.
Related Topics