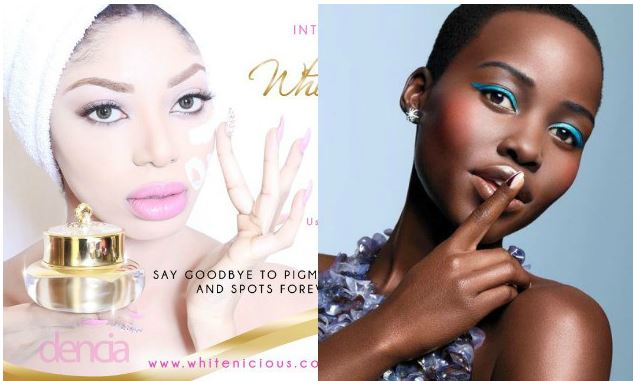 Dencia lashed out at Lupita Photo:Slashmagazine
By Njambi Mungai (@njambie)
When Lupita was announced as the face of Lancome Paris, a French cosmetics company, many people were happy and others were not.
Among the critics was Dencia, a Cameroonian pop singer, who slammed Lupita for 'bowing to the white people company'.
Dencia is also the proprietor of a bleaching cream dubbed Whitenicious, which is touted to remove dark spots. And if your whole body is a dark spot, Whitenicious will take care of that too. She even has her photos to prove the efficiency of her product.
This is not the first time the pop star has lashed out at Lupita. It all started with Lupita's speech at Essence's Black Women event on February 27th. In her speech, Lupita read out loud a letter from a fan who said she decided not to buy Dencia's skin whitening cream because the actress had inspired her to love her own skin.
Dencia took that as a personal attack and took to Twitter to launch her rant. She claimed that Lupita did not receive that fan letter and that the actress is a product of white people. Lupita did not bother responding to her.
So when Lupita was announced as the Lancome Ambassador, Dencia pointed out that the Lancome line also made bleaching products. Which according to her, makes no sense if Lupita was against skin bleaching.
Again Lupita has not responded to that.
Related Topics