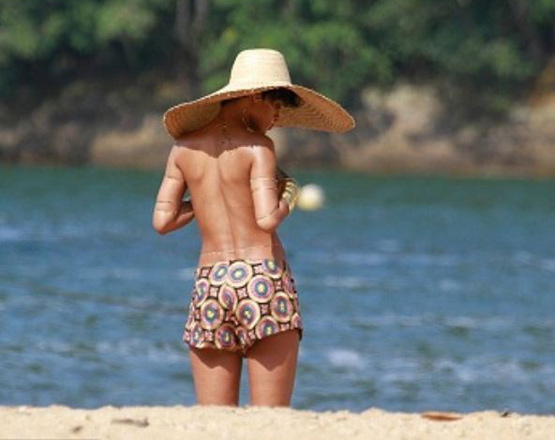 Rihanna Posing at Brazilian Beach Photo: GADE/AKM-GSI
By Wesley Kipngenoh (@wess_kipp)
Rihanna has a way of getting attention. She is on it again, not for music launch, or concerts. No! She is in fact, posing for some catchy photos in a Brazilian beach.
The sexy superstar was spotted posing for smoldering photos as part of her shoot for the Vogue Brazil. The Daily Mail captured and posted photos of RiRi, which was set on Angra do Reis, a Brazilian Island.
The photos are typical of her, but what other better way could she start her year. She seems to be up on her toes when standing topless in front of the lights, camera flashes and clicks done by male, professional photographers.
In the shoot, her signature star tattoos are on display just as much as her clothes. She beats courage, in some of the scenes, as she stands almost nude on the hot sandy beach.
With that, we know that her year has more catchy things to come, let alone posing nude for camera. She always has something up her sleeve.
With her topless photos doing rounds,we are always reminded of her words: "If you don't send your boyfriend naked pictures, then I feel bad for him."
Related Topics