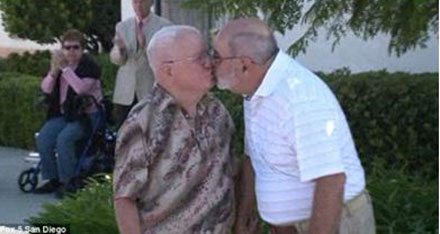 These two proved that love knew no age. Photo:Courtesy
An elderly military couple married at their veterans' home the day before yesterday, Sept. 13 in the center's first gay ceremony. 95-year-old World War II veteran, John Banvard, married his partner, 67-year-old Gerard Nadeau, who served in Vietnam. The two have been together for 20 years, but had to wait until the recent Supreme Court decision to legally tie the knot. The wedding held on Saturday at their home with few friends in attendance. They sealed it with a kiss after exchanging vows. Those who kicked against their marriage simply did not attend.
'It was something we wanted to do for a long time', Mr. Banvard said. Their ceremony, however, wasn't completely welcomed by the rest of the home's residents as some of them protested, but the Facility director insisted they had a right to get married just like others do.
Source:Ladun Liadi Blog
Related Topics