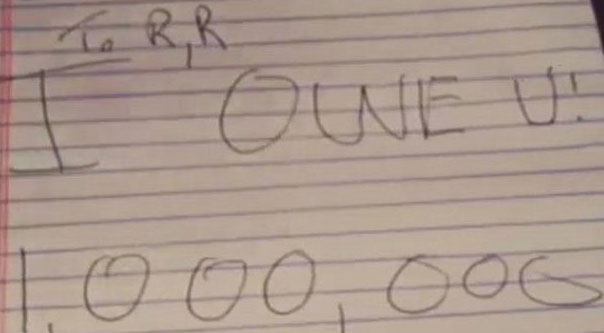 The 'contract' made out to Rick Ross Courtesy:360 nobs
Rapper Rick Ross became a million dollars richer this morning after he won a bet of business mogul Diddy in the studio.
The 43-year-old rapper and entrepreneur – who has a net worth of $580 million – lost the huge sum to Ross shooting dice in a recording studio but bragged 'it ain't nothing'.
Diddy was so blasé about the loss that he posted a video to his Instagram page, showing his IOU to Rick, scrawled on lined paper, and the events leading up to the loss.
He is seen swigging from a bottle of his own brand CIROC vodka before three dice are rolled and he loses.
Diddy, wearing a black T-shirt, large gold jewellery and sunglasses appears unperturbed while Ross looks positively gleeful at his win.
Diddy captioned the video 'I just lost a million dollars. It ain't nothin.'
He later tweeted 'I just lost a million to @rickyrozay in the studio recording Big Homie.'
Rick also uploaded the video to his own Instagram page and captioned it, 'I had Puff write me a contract for the 1million $$ I won from him Rollin dice.'
Source:360 nobs
Related Topics