If you had told a young Kawira Mwangaza that she would one day be governor of Meru, she would not have believed you.
Born in 1973 at Ontulili in Buuri, Mwangaza came from a humble family and her education progress was anything but smooth.
She grew up with her mother after the passing on of her father when she was young and this forced her to do menial jobs in her neighbourhood in order to assist her mother cater for the daily needs of her junior siblings.
Her mother was not able to raise her fees despite her performing well at Ontulili Primary School.
She was forced to make the long journey to Marsabit where she became a house help for her aunt's family. She worked hard for her aunt, performing the usual chores maids do.
She repaid her aunt's kindness with a lot of hard work in her studies.
"After a year, my aunt enrolled me in Moyale Girls Secondary School. I emerged the best candidate in Marsabit District with a C plus. Later, I studied for a degree in Education, Guidance and Counseling at Kampala International University," Mwangaza revealed to residents while reflecting on the long path she had travelled to become what she has.
To be elected governor, she has come a long way from the time she unsuccessfully ran for Buuri MP in 2013 to becoming Women Rep in 2017.
Political heavy hitters
Before she trounced political heavy hitters in former Governor Kiraitu Murungi and now Agriculture Cabinet Secretary Mithika Linturi, Mwangaza spent a lot of her time behind the pulpit.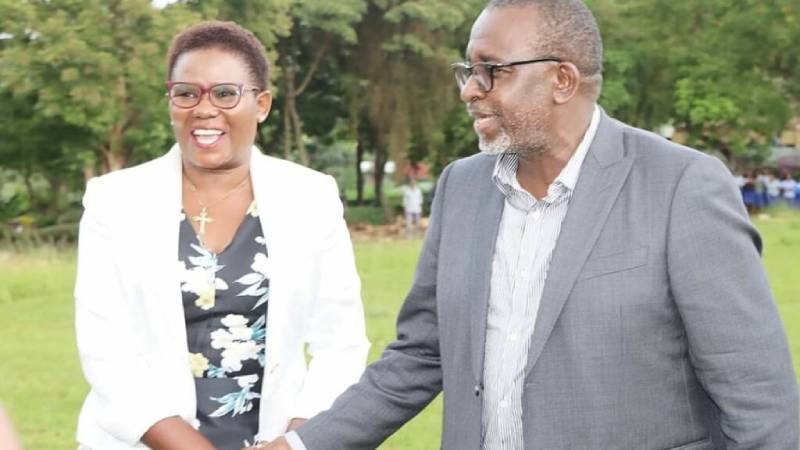 Bishop Mwangaza had been advised by many to defend her seat because they felt she stood no chance against the much more experienced Kiraitu and Linturi.
But she gave a good account of herself in the governor's race and left her opponents gasping for breath, garnering 209,148 votes.
Linturi and Kiraitu, who was recently appointed by President William Ruto to chair the National Oil Corporation, garnered 183,859 and 110,814 votes respectively.
Mwangaza, who picked yet another pastor in Reverend Isaac Ethingia as her deputy, had established herself as a popular preacher at her Baite Family Fellowship located just outside Meru town.
"I had told Kiraitu that he would not only lose to me but also that he would come third. It came to pass," Mwangaza reminisced.
Kiraitu saw the hand of God in his defeat by Mwangaza and recently said at a meeting attended by President William Ruto in Meru: "I did not lose to a nobody. I was defeated by a bishop. Can you compete with a woman of God? I accepted and bishop you are my governor".
Kiraitu was happy Mwangaza and Meru MCAs had made peace, which was mediated by Deputy President Rigathi Gachagua on Ruto's orders.
Kiraitu also recounted the relationship between Mwangaza and the president.
"Bishop and the president have come a long way. There was a time they used to be hustlers so they are not strangers. I am happy the MCAs are now fully behind the governor."
Pastor and businesswoman
Kiraitu could have been alluding to the fact that Mwangaza combined her pastoral duties with business before she threw her hat in the political ring.
Just over a decade ago, Mwangaza was selling and transporting cement and later opened a hardware.
She had also been a vegetable seller at Kiirua.
Mwangaza made her first stab at politics in 2013 when she ran for Buuri MP but emerged second behind the youthful Gatobu Kinoti.
She had spent a lot of money in campaigns and after losing she retreated to her business.
"We had spent Sh20 million. I was broke and in debt. My husband (Murega Baichu) and I moved to Ruai in Nairobi where we sold onions and tomatoes as we worked to recover," said the governor.
But now the bishop is working hard to fulfill her election pledges after her win.
It was a fast rise up the political ladder for a woman who in addition to preaching has, for years, run the 'Okolea kana Ka Meru' (Helping a child of Meru) initiative.
As a minister in the church and as a woman rep she has built houses for the most vulnerable in society who include widows and orphans. She donated dairy cows, school uniforms, desks, bedding, gumboots to the poor and educated destitute children.
She is noticeably at ease on the pulpit and on Sundays worshippers throng her church complex which also houses the family's Baite TV station and a school.
Dressed in priestly garb and quoting scriptures as she delivers the sermon you would not know she is the governor, the CEO of the county who calls the shots.
On Sundays, she religiously welcomes faithful to her church, including through her social media platforms.
There they find the governor robed like most clerics and ready to execute her roles.
She is an energetic preacher and delivers the Word with characteristic ease, just as she has done for years at her church and during prayer-cum-Okolea kaana ka Meru charity events across Meru.
Related Topics