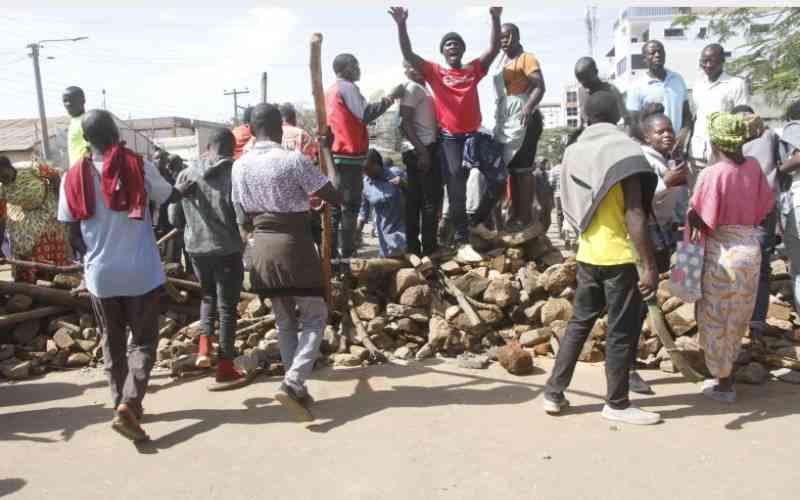 Tens of thousands of demonstrators across four African countries yesterday heeded calls for anti-government protests to agitate for an end to, among others, worsening economic conditions, corruption and despotism.
In effect, this march of solidarity makes March 20 historic.
East Africa's Kenya, West Africa's Nigeria, North Africa's Tunisia and South Africa had all announced parallel mass protests, roping the rest of the continent in a debate on governance in the face of a myriad of challenges, some of them, such as inflation and corruption, prevalent in many countries.
Nigeria and Tunisia, whose public protests have been ongoing for weeks and days respectively, did not send overwhelming numbers to the streets. In South Africa, Economic Freedom Fighters' (EFF) party leader Julius Malema rallied his forces to put pressure on President Cyril Ramaphosa to resolve the power crisis.
In Nigeria, protests continued following the election of Bola Tinubu of the ruling All Progressives Congress on February 25. A fuel shortage, ironically in an oil mining country, and forex shortages which have complicated currency exchange, were also cited as key reasons for the agitation.
In Tunisia, every Independence Day, which is on March 20, experiences demonstrations, often mild. This year, the protesters were against high cost of living, insecurity and impunity. The country's president has been in the spotlight for claiming that migrants from the Sub-Saharan Africa are part of a "criminal enterprise hatched at the beginning of this century to change the demographic composition of Tunisia".
Recently, in a vain attempt to clear the air, he insisted he only had qualms with the undocumented immigrants, but many black Africans were already being persecuted and seeking to flee the country.
And in Kenya, opposition leader Raila Odinga called for a grand demo aimed at forcing the government out of power. Other demands included a reduction in the cost of consumer goods and opening of the electoral servers.
In all the four countries, it had been promised that the demonstrations would be peaceful. But as usual, there were incidences of violence, pitting armed police officers against masses wielding stones and other crude weapons. Police also beat and abused people openly without provocation.
It is not coincidental that four African countries are protesting at the same time. Tumultuous political and economic occurrences around the globe have motivated people to fight for change.
In France, President Emmanuel Macron is under pressure after trade unions called citizens to take to the streets to protest his pension reform plans, in which he intends to increase the country's retirement age from 62 to 64.
And in London, a protest against the illegal migration Bill ensued, with Home Secretary Suella Braverman called out by unions and citizens.
African countries' decision to hold their demonstrations on the same day inarguably ensures more focus on the pertinent issues being raised here, and it could be a pattern taken up more and more in the future.
They also come at a time when many countries' economies are rattled by a whirlwind of external occurrences.
In Kenya, the shilling's sustained slide against the dollar has led to a sharp rise in the cost of living. Failed rains have, in the past few years, left millions in dire need of food aid, and inflation in 2022 crossed the 9 per cent mark, way above the Central Bank range of 2.5 per cent to 7.5 per cent.
Lawyer Erick Komolo yesterday told Citizen Tv that the demonstrations may be a precursor to bigger problems.
"Today's demonstrations are symptoms of what will happen moving forward if consultations don't take place," he said.
In all four countries, security forces cordoned off protected areas and the government gave stern warning against destruction of property.
South Africa's President Cyril Ramaphosa issued a stern warning to Malema, who had promised a national shutdown, saying that while picketing was within the opposition's rights, protection of property was the government's core responsibility.
The president claimed that ahead of 2024 General Election, the EFF may be resorting to violence to gain political mileage.
"South Africa is governed by the rule of law, and we are a constitutional democracy. Regime change can only come about through the vote. It cannot come about through anarchy and unleashing disorder in a country," he said.
Sustained blackouts have hurt industries' performance, and calls for resignation of the current regime are louder than ever before.
Nigeria's 2023 elections, which experienced a serious voter apathy with a 27 per cent voter turnout, have worsened the demonstrations in Africa's strongest economy (highest nominal GDP). Supporters of losing candidates Atiku Abubakar and Peter Obi insist there was foul play.
In Kenya, claims of election rigging, which were dismissed by the Supreme Court last year, still abound.
The opposition, while calling for protesters to join in the journey to liberation and a push for lower cost of living, promised an overhaul that would send the president home.
"This is the moment to take a stand for democracy and the future of our nation," said Raila.
Raila and his team said they would not be intimidated even as security forces insisted the demonstrations were illegal.
"Ruto will be unable to make Kenya a republic of fear, a police state. He can't successfully block peaceful citizens from converging in Nairobi to evict him to vindicate their constitutional rights. We have crossed the Rubicon. His Waterloo is nigh. People Power is unstoppable," said Makau Mutua, Azimio campaign secretariat spokesperson.
While images from South Africa majorly showed peaceful protesters marching while chanting slogans in the streets, rogue individuals engaged police in running battles in Nairobi, smashing police cars and private vehicles.
"This is how protests are done when inspired by the people's interests. Create a peaceful atmosphere where all can participate. No stoning of cars, no looting and there is clear uniform for protesters to weed out rogues," tweeted Michael Ndonye.
But isolated cases of violence were reported in South Africa, with cautious business owners keeping their doors shut throughout the day.
Malema wrote: "It's just the beginning; now, let's go out and join the picket lines. They said it was a normal day, but you could see who the deceivers were. You proved to the doomsayers once more that we remain the only discipline force or the left."
Related Topics