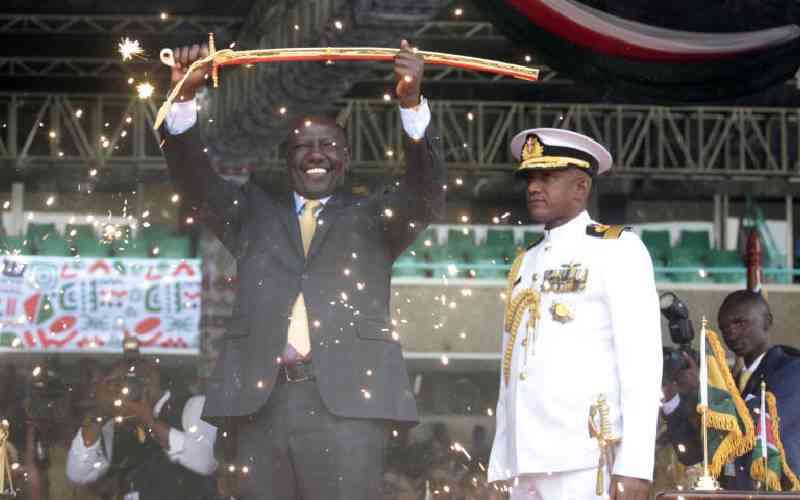 President William Ruto has barely concealed his intentions of gaining absolute control of Parliament.
The Head of State yesterday staged a coup on his predecessor Uhuru Kenyatta, netting lawmakers from the former ruling Jubilee Party.
His meeting with a host of MPs from Jubilee, whose agenda was heavy on cooperation, won him unofficial defections, the latest in a series that began soon after Ruto was declared winner of last August's presidential election.
The State House meeting, which Jubilee Secretary General Jeremiah Kioni said had not been sanctioned by the party, was a follow-up to another on Tuesday between Ruto and MPs from Raila Odinga's Orange Democratic Movement (ODM).
State House would announce yesterday's meeting as a homecoming, with Ruto saying he would treat the Jubilee MPs as his members.
"You have a right to make choices as Kenya is a democratic country. You are now our members and we will treat you as such," the president told the MPs, even as he sought their support in implementing his government's legislative agenda.
The two meetings come a month after the president predicted Azimio's downfall, indicative of his plans to further deplete its troops.
Unlike ODM MPs who only explained their Tuesday meeting as aimed at clinching development deals, Eldas MP Adan Keynan told The Standard that they had agreed on a cooperation framework with the president.
"The Jubilee Parliamentary Group made the decision to work with the government for the sake of development, peace and the tranquillity of our nation," Mr Keynan said. "We will support President William Ruto's government agenda inside and outside Parliament."
Ruto's reunion with Jubilee MPs has been in sight for a while. Lawmakers from Uhuru's party have condemned Raila's recent protest rallies, even as they vowed not to take part in such activities.
"We shall not support the politics of division," Keynan added.
The latest development is a win for Ruto in his quest to tame opposition in Parliament.
Since his election, Ruto's charm offensive has led to defections from Azimio, making the then-minority Kenya Kwanza Alliance the majority in the bicameral House.
Elected with 155 MPs in August, Kenya Kwanza now has 179 MPs, courtesy of victories in subsequent parliamentary elections and a string of defections.
Additionally, 10 independent lawmakers have since aligned with Ruto's coalition, bringing the number of MPs affiliated with the president to 189.
If Kisumu East MP Shakeel Shabbir (Independent) and the seven ODM MPs who met the president and all their 34 Jubilee counterparts cross the floor, Ruto would hit 231 MPs, just two MPs shy of the super majority, pegged at 233 MPs.
This number would be critical for Ruto to achieve his goals that include amending the Constitution, which requires two-thirds approval.
And for his efforts, the president has earned the criticism of the opposition. Raila accused him of attempting to establish a one-party rule, against Ruto's assertions of intending to set up a robust democracy. ODM Secretary General Edwin Sifuna questioned the motive of the meeting, dismissing talk of development.
"As a taxpayer, you are not required to beg for development. Just like the government doesn't call you to State House when taxing you, you likewise don't need a meeting there to get development. It's your right. These State House visitors are being dishonest but you already knew that," Sifuna tweeted, a statement endorsed by Saboti MP Caleb Amisi.
"That is not how one gets development. Not from holding meetings at State House," Amisi said.
Migori Senator Eddy Oketch described the unofficial defections as an affront to pluralism.
"Those Jubilee and ODM MPs are going to force us to kill our multiparty democracy because they are giving Ruto the mileage to be a one-party ruler. We can't allow that," Mr Oketch said.
Oketch said he would be seeking to have Isiolo Senator Fatuma Dullo kicked out as the Senate Minority Whip and Nominated MP Sabina Chege removed as National Assembly Deputy Minority Whip.
"Dullo cannot whip members who go against the coalition's position because she is not aligned with it," the senator said. "We will be seeking that Jubilee takes disciplinary action against their MPs, failure to which there will be consequences."
The Migori senator said that Raila had sanctioned previous meetings between ODM leaders and Ruto before he learned of the alleged whistle-blower account of last year's election.
Azimio is scheduled to hold a parliamentary group meeting today, with Oketch also proposing that the forum be used to kick out rebellious lawmakers.
Related Topics