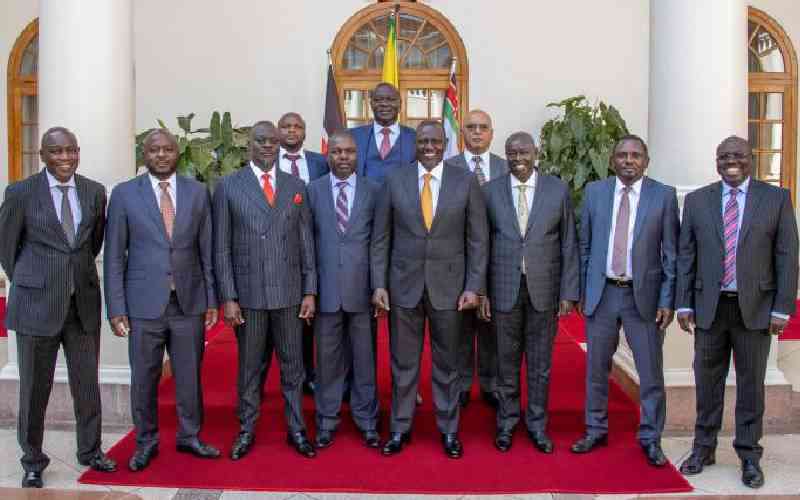 President William Ruto has sustained a charm offensive on the turf of ODM leader Raila Odinga in Nyanza region.
As Raila, the region's kingpin, continues with his rallies across the country to checkmate Ruto's administration, a lot is happening in his Nyanza backyard and within ODM party that could lift the president's popularity in the region.
And in a bolt out of the blue that appeared to have caught Raila's camp flat-footed, a section of ODM lawmakers held talks with President Ruto and his deputy Rigathi Gachagua at State House, Nairobi on Tuesday.
According to sources who attended the meeting, the leaders pledged their support to Ruto, a move that was quickly dismissed by ODM which branded them as traitors.
Raila's troops who attended the meeting included MPs Gideon Ochanda (Bondo), Elisha Odhiambo (Gem), Mark Nyamita (Uriri), Caroli Omondi (Suba South), Paul Abuor (Rongo), Walter Owino (Awendo), Felix Odiwuor (Lang'ata), Shakeel Shabbir (Kisumu East) and Kisumu Senator Tom Ojienda.
This latest development is a major blow to Raila at a time when the Orange party is trying to pile pressure on Ruto over alleged anomalies in last year's presidential elections.
ODM said in a statement that the leaders had chosen to undermine the party leadership but "the party remains unfazed by its fight for electoral justice."
"We know that in the quest for legitimate leadership, there are those who will fall by the wayside and some will be compromised. But the movement remains unstoppable," said ODM director of communications Philip Etale.
Ruto, however, said that he was keen to work with all Kenyans equally. "Elections are over. We do not want a polarised country," read a statement from State House.
Ruto, who appears buoyed by the warm welcome he got from Nyanza recently when he pitched tent in three counties, is keen to bank on these new alliances to expand his influence further.
His party, United Democratic Alliance (UDA), is also seeking to take advantage of a lull in ODM activities in the region to recruit more members and increase its strength.
The president has adopted a multi-pronged approach to infiltrate and stamp his authority in Nyanza. His assault has been waged on the economic, social and political fronts to build support for his administration.
His troops and allies from the region are leading the drive to cement his support even as they market him as an alternative to Raila's leadership.
On the political front, Ruto is actively wooing Raila's troops to his fold. Insiders claim this is part of a wider strategy to weaken the ODM leader and leave him with a handful of allies.
ICT Cabinet Secretary Eliud Owalo has proved invaluable when it comes to creating incursions into Raila's turf. Sources who attended the meeting with Ruto said Owalo was responsible for reeling in the opposition MPs.
On Tuesday, Owalo described the meeting as a "development priorities dialogue session aimed at transforming Nyanza."
Ruto is also working with leaders who say they are on track to challenge Raila's dominance in the region.
They include former ODM members who fell out with the party leader after their political careers crumbled. Among them is former Lake Basin Development Authority chairman Odoyo Owidi, former Kisumu Senator Fred Ouda, and former Nyatike MP Edick Anyanga, among others.
The leaders believe they are on track to change "the perceptions of the community" and clip Raila's wings in favour of the new regime.
According to Mr Owidi, the ODM leader is struggling to wrestle the Luo masses from Ruto's grip.
Ruto's allies recently embark on a mission to strengthen UDA Party in the region. The recruitment drive is targeting leaders and residents from all six Nyanza counties.
The move is part of early efforts to consolidate support for Ruto and his administration as they prepare the ground for his re-election bid in 2027.
In Kisumu, which is considered Raila's bedrock, UDA has already acquired its first office which is undergoing renovation and has already been painted in party colours. This brings the number of UDA offices in the region to three.
UDA Kisumu chairman Clive Natome told The Standard that he believes the region is ready to shift its loyalty to Ruto.
"We want Nyanza to be the President Ruto's support base by ensuring we enlist as many members as possible into UDA ahead of the 2027 elections. The president will get more votes here than in 2022," he said.
According to Mr Natome, their ultimate goal is to defang ODM in Nyanza.
In the first three days of UDA recruitment, the officials claimed they had registered about 900 people from Kisumu alone.
"We are having teams who are working in every constituency in Nyanza. In Kisumu, for instance, we are covering all the seven constituencies and we target 20,000 people in the first three months of this drive," Natome said.
In Siaya, a similar drive is taking place with UDA officials saying they are on a mission to strengthen the party in the region.
ODM enjoys nearly unrivaled support and clinched nearly all key seats in last year's elections.
Benard Odinga, a former UDA parliamentary candidate for Rarieda and a coordinator from the constituency, claimed that have started an exercise to market the party as well as Ruto.
Related Topics