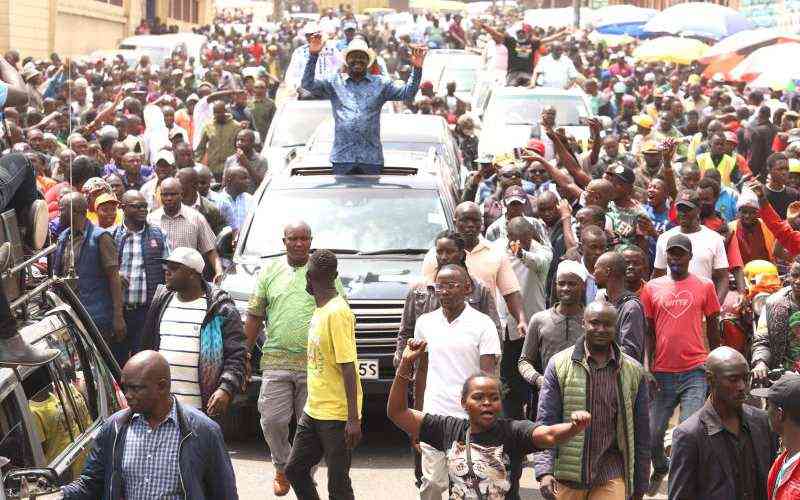 Azimio leader Raila Odinga has asked his supporters to reject the Kenya Kwanza regime on grounds that the election results were manipulated.
Accompanied by his close political allies, Odinga made a slightly over 30-minute speech at the Kamukunji Grounds on Monday afternoon as he had promised his supporters.
Raila also demanded a stop to IEBC reconstitution as he called for President William Ruto's resignation for "inability to govern".
"We reject the 2022 election results totally. We do not recognise the Kenya Kwanza regime and consider it illegitimate. We don't recognize William Ruto as president of Kenya or any official in office with him,"
"We demand any attempts to reconstitute the IEBC commission by Ruto to cease and allow Kenyans to do it after fair deliberations," Raila said sending his supporters to a chant 'Ruto must go'.
He also demanded the release of the 2022 election data at the IEBC public for auditing by a foreign body.
The Azimio leader also his team had investigated last year's poll results and had information showing Azimio won.
"Since August 15, 2022, we have investigated the election results and we are convinced our victory was stolen. The election was not even close. We won with over two million votes," Raila said.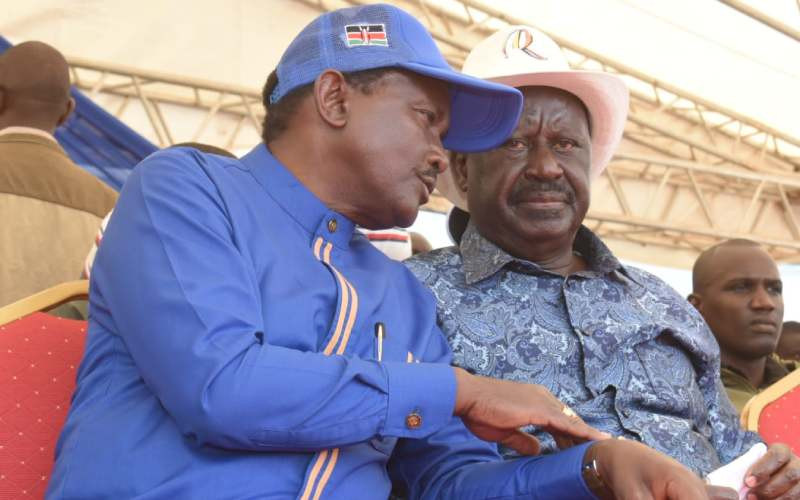 According to the former Prime Minister, Azimio garnered the most votes in all regions across the country except some parts of Rift Valley where Kenya Kwanza garnered more votes.
He lauded the Central region of Kenya for voting overwhelmingly for the first time.
"We won the election overwhelmingly in all regions. Mount Kenya region voted for us yet they never did so before. I thank the mountain people for standing with us. Kenya Kwanza only beat us in Rift Valley," he added.
Odinga has also pointed an accusing finger towards The Supreme Court, IEBC, a company he didn't name and unnamed countries for allegedly taking part in the rigging of elections.
On the events at the Boma of Kenya, Odinga alleged that ACK leader Archbishop Jackson Ole Sapit and President Ruto arranged the chaos.
The opposition chief told off President Ruto for saying he wanted a handshake.
"I am not interested in any handshake with you,"
Odinga also took a swipe at Deputy President Rigathi Gachagua for repeatedly attacking him.
"I hear the DP ask the president to leave me to him. That he will deal with me. He calls himself a child of Mau Mau. Let me tell him that the person who had a hand in Mau Mau was Jaramogi Oginga Odinga,"
"You don't have respect. You don't know where we have come from and you don't threaten me. I was in jail three times while you were working for the Nyayo regime. I am not his age in life and in politics,"
Odinga has also announced another public meeting at Jacaranda Grounds on Sunday, January 29.
Related Topics