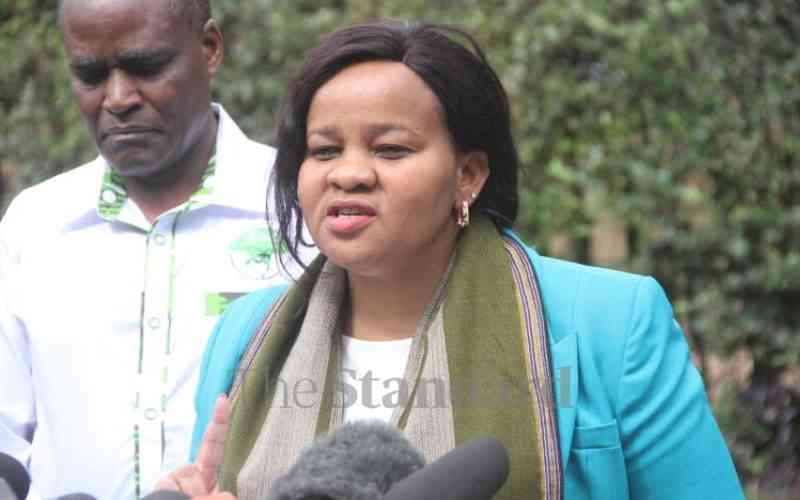 Lahaula! After a long, long wait, the presidential poll results were delivered on Monday evening, but without the merriment that would move Prezzo-elect Bill Ruto to tears.
He weeps easily, as you might know, but we shall cease from such unpresidential references. Also, we have to find him a more presidential moniker than Bill Ruto.
Instead, it is the electoral boss Wafula Chebukati, who appeared to be in a rictus of tears as he narrated his turbulent ride at the Independent Electoral and Boundaries Commission (IEBC).
He appeared to recede deeper in his seat as Bill Ruto hailed him as a hero, his heroic deed of the day being to declare the presidential results under a hail of flying seats and boots.
In the melee, Chebukati disappeared from view, swallowed in the maze of blue that garlanded him at the Bomas of Kenya as he made his hasty exit.
That's what makes Kenyans so unpredictable. For eight straight hours, they had waited on Chebukati patiently, seemingly enjoying the heart-warming singing from an array of choirs.
The next I knew the mood had soured and they couldn't stand the sight of Chebukati.
I guess that's what happens when you keep people cooped in a hall without food or water, and only feed them with songs.
Then the music stopped and TV cameras beamed live images from the Serena Hotel. "There is a reason we're here, not at the Bomas," Chebukati's deputy, a fair lady with the musical name, Che-re-ra, cooed on Monday evening.
Che-re-ra and her colleagues appeared serene and fresh for folks who had been trekking most of the day. Che-re-ra said she wasn't going to field questions, although she had invited scribes to the hotel.
All she had to say was that she and her colleagues were not "taking ownership" of the results declared by their boss at Bomas. They were his numbers, not theirs, apparently because he had been cooking them all day. More details would be coming soon, she said.
The following day, Che-re-ra and her colleagues returned to the same venue. Her serene face came to the fore. I promised I'd be back, and here I am, she said with a hint of a smile. She went on. This is paraphrase.
We said we don't take ownership of the results declared by our boss, she started.
What Wafula Chebukati declared is a mathematical absurdity because the totals come to 100.01 per cent. And in a poll that close, the said 0.01 per cent would come to 142,000. That's enough to tilt an outcome. And so on and so forth…
It's suspected Che-re-ra & Co cooked their own figures overnight, using baking powder to inflate 1,420 to 142,000. And since the only math I understand relates to money, I have no way of making sense of the now famous "Chereramatics."
But if Che-re-ra claims numbers can lie, and offers a sample of her own deceptive figures, then it is a good thing Chebukati did not seek her advice in the tallying process.
Yet, Che-re-ra's contrarian posturing should not be dismissed as much ado about nothing.
There is something she and her colleagues are trying to say, but they don't have the language to express it. Certainly not in the 'mazematical' formulas that they used to work out their own tallies.
And if the process is as important as the results, then Che-re-ra's chants merit a bit of attention, to use a much-abused legal exhortation, for the avoidance of doubt.
Related Topics