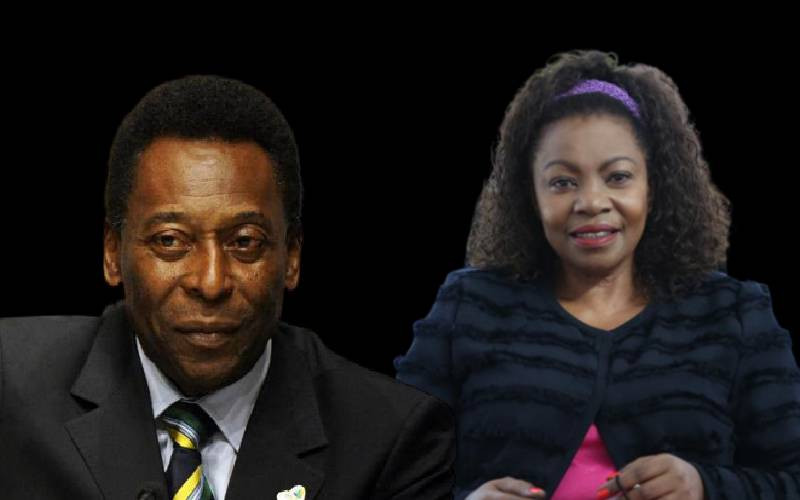 The year 2022 may have ended on a sad note as we said goodbye to two great personalities; Pele and Catherine Kasavuli.
However, their deaths just at the close of the year are a stark reminder that whatever has a beginning has an ending, and what matters is the impact we make in between. Each of them shone in the little spaces in which they had a chance to demonstrate their gifts and abilities.
Pele mesmerized the whole world with his speed, agility, skill, tenacity, and, of course, great personality. Pele holds numerous records, including being the youngest player to win a World Cup and the only player in history to win it three times.
Similarly, Kasavuli pioneered the art of presenting live news. Her eloquence, smile, and presence have continued to be a yardstick for TV presenting to date. She has trained and mentored many of the current faces you see on TV.
At 60, Kasavuli was still active on the screen, maintaining the same poise and beauty that first introduced Kenyan television to live news presenting. However, as we mourn the two great icons, you will note that few people are concerned about how much wealth they may have acquired in the process.
It is about the impact they had on the world and the number of lives they touched and inspired. Their legacy is defined by their consistent and tenacious actions, not by what they received.
These are definitely important lessons as we start the year 2023. One thing we must never forget is that it will be over in just 12 months, or 365 days. that we cannot alter or change. Day one of 2023 is the day we ask ourselves all the hard questions.
Where will we want to be by December 2023? What are the goals, and what do we need to do to achieve them? Is there something we tried before that failed? What is it that we are going to do differently?
A new year is exactly that. It is a chance to refresh our minds and, if need be, start all over again. For those that managed to make great strides in 2022, it is a time to improve working strategies and give a new impetus to whatever dreams and aspirations remain unaccomplished.
In life, people aspire to many things, but generally, we all aspire to be successful. This can either be in marriage, career, business, academics, politics, personal development, etc. However, that is not just it.
Other smaller struggles play a role in our bigger aspirations. They are those who are struggling to quit drugs, get out of an abusive relationship, get a job, find love, and be grounded spiritually.
These, too, need one to be in the right frame of mind and surrounded by the right calibre of people. Just like Pele and Kasavuli, the year 2023 offers us another opportunity to start or continue to build our own legacies. I wish you a happy and prosperous 2023. If you do what you did, you will get what you got.
-The writer works for Standard group's Radio Maisha
Related Topics