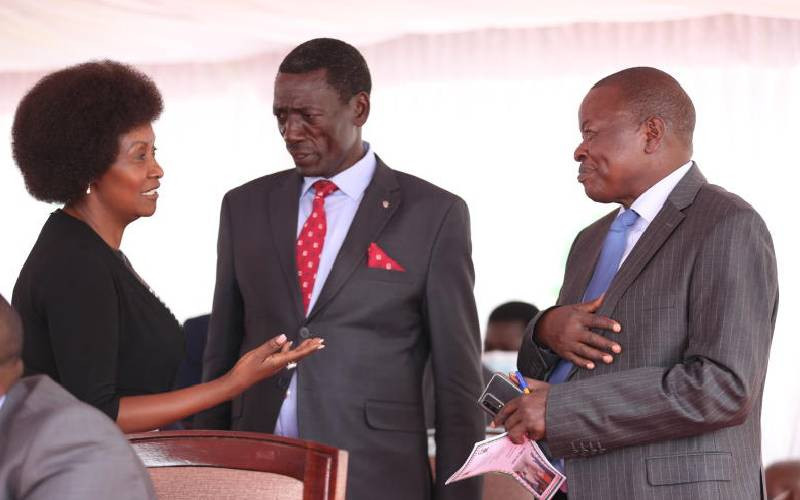 Since the inception of trade unionism in Kenya during the days of Railway Artisan Union (1922) which was formed by Sudh Singh (Makhan Singh's father) as a way of uniting Asian and African workers, Trade Union Committee of Mombasa (1931), Workers' Protective Society of Kenya (1931) and the final formation of Central Organisation of Trade Unions, the Kenyan workers have continued to enjoy a very structured firewall against unacceptable policies by their employers.
In the recent past, however, teachers have been bemoaning the tragic collapse of vibrant unionism among the two major teachers unions; Kenya National Union of Teachers (Knut) and Kenya Union of Post Primary Education Teachers (Kuppet).
Much to the detriment of teachers, these two giant unions have cultured a cosy cat-like relationship with the employer, one which has sacrificed the teacher on the altar of betrayal and deceit.
Can these trade unions redeem themselves from this self-dug pit hole in which they find themselves?
It could be too little too late for them and sadly so, it could be an abuse to the great founding fathers who fought tooth and nail to have these unions birthed. I need not say that we are thankful they cannot resurrect from their resting places to see the mess that has become of our once vibrant teachers' unions but for sure they are turning in their graves.
Teachers have in the past few years been taken aback by the unions' decisions to back the employer, Teachers Service Commission (TSC), on each and every punitive policy without raising a finger. Our unions have become submissive flower girls of the employer.
The core values and tenets of unionism and, more so, the core principles of the International Labour Organisation were murdered in cold blood and thrown out of the window.
Knut and Kuppet were very enthusiastic in support of the controversial Teacher Professional Development (TPD) which needed teachers to undertake a six-module training that would last 30 years. Each module would take five years and success in each module would have a teachers' certificate renewed.
Knut and Kuppet attended the launching ceremony and sung praises to TSC, like the new submissive spouse, and did not question key aspects of this training, much to the detriment of the teacher.
Was this training going to change employment from permanent and pensionable to contractual? Why does it have to take 30 years?
Why should teachers pay for the training at a rate of Sh6,000 per year, totalling to Sh180,000 eventually, yet the same unions had negotiated a non-monetary CBA?
Where were teachers to get not only this money but also the fare to the only four institutions chosen to offer TPD all of which are in the Nairobi metropolis, not to mention upkeep and stationery?
When our unions failed to raise these questions, among others, teachers found themselves in limbo. As an orphaned calf would lick its own back, teachers began to speak for themselves on this matter and even formed a pressure group to oppose the move and other injustices unions were cowardly to address; The Kenya National Teachers' Pressure Group.
Members if this pressure group were hunted down by the employer and punitively transferred to very extreme hardship and volatile areas. These transfers were enthusiastically supported by Knut and Kuppet.
Some members of this pressure group were arbitrarily arrested and held incomunicado as fabricated charges were wedged upon them. Knut and Kuppet were in an ecstatic state of cheers and champagne tossing.
The unions turned on their own. The teacher became food on the unions' dinner plate as the unions 'dined' with the employer.
Unions continue to remain mum on a myriad of wrongs namely; the already ineffective health cover, punitive transfers, high handedness by TSC, corruption at the TSC headquarters, illegal deductions on teachers payslips like KEWOTA and Kuppet BBF, frozen promotions, TSC's failure to recognise some further studies certificates for promotions and failure to confirm acting administrators in schools, especially in the north of the country just to mention but a few.
Are we seeing the final bow and collapse of Knut and Kuppet? The writing is on the wall and teachers eyes are finally peeled. They have learned to lick their own backs as the proverbial orphaned calf.
Our message to the unions is that their time has come and that, because they made injustice to the teacher the law, rebellion has become a duty.
Related Topics