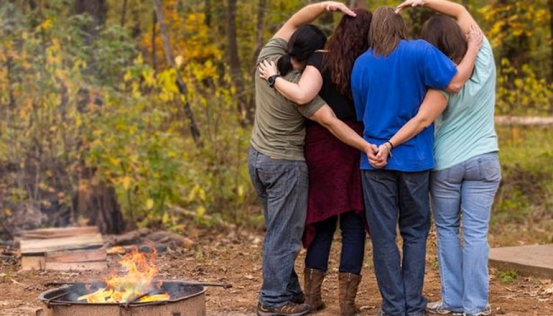 For most wives, the thought of their husband dating, sleeping with or falling in love with another woman is devastating.
But for one mum, it isn't a terrible notion at all – in fact she is pleased that her partner of 11 years is 'head over heels' for someone else.
Carson, who uses a pseudonym, is part of The Quad – a polyamorous foursome made up of herself, her husband Raymond, her boyfriend Jason and Jason's partner of 12 years and fiancé, Alex.
She doesn't bat an eyelid as her spouse, Raymond, goes on 'date nights' with his lover, Alex, every week and even encouraged him to get a girlfriend. Likewise Raymond recently wished his wife "happy first anniversary" with her boyfriend.
While Raymond and Alex have been dating for 15 months, Carson and Jason are in their own relationship – and have been for nearly a year and a half.
But despite their happy pairings, Carson, who grew up in a "religiously conservative family", and Raymond are still blissfully married with a 13-year-old son, who has had to explain to his friends what his parents' polyamorous relationship means.
Remarkably, each member of The Quad is close to all of the others – including their partner's lover (whom they call their 'meta', short for 'metamour').
Perhaps unsurprisingly, the group's multiple romances have led to some confusing – and in many cases, amusing – situations with members of the public.
They have left waiters bemused with their displays of affection in restaurants, while others have been startled to hear them gushing about their 'meta'.
Speaking exclusively to Mirror Online, Alex said: "There are a multitude of situations that come up in polyamory that include an amusing take or funny twist simply because of their nature. There are also a lot of things said that you'd just never hear anywhere else or in any other circumstances. It's funny."
But she added: "Though our relationship style may be unconventional by societal standards, it is actually not that different from most monogamous relationships."
Caron and Raymond, from America, live in a separate house to Alex and Jason – although they typically spend weekends together as a group.
Carson isn't fazed at all when Raymond cuddles and kisses his girlfriend Alex in front of her – nor is her husband as she shows affection to Jason.
They all agree that they have a 'fulfilling' sex life, with each couple having a separate date night every week in order to maintain their close bond.
In fact, the group's ties are so deep that Raymond once received some advice from Jason about where to place a 'love bite' on Carson!
Related Topics