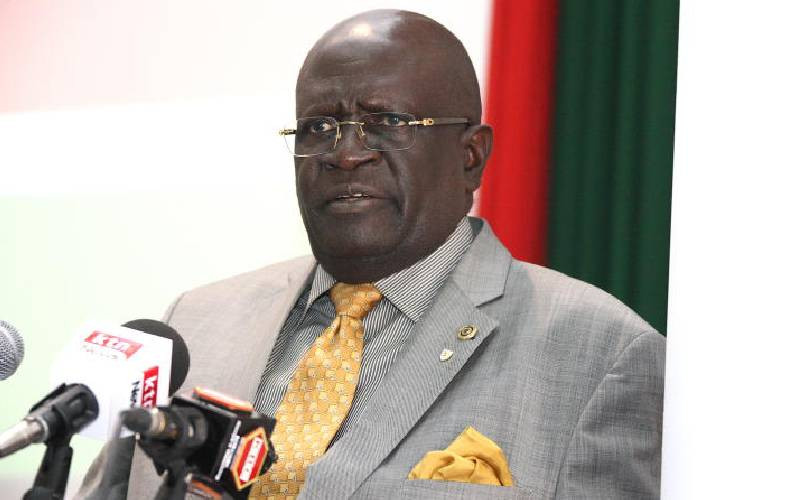 To the rest of Kenyans, he was a strict, orderly, tough talking educationist, a scholar and surgeon who transformed every docket he laid his hands to.
But to the residents of Umiru village in Yala, Siaya county, professor George Magoha was a brother, a son, a village boy and an inspiration to several people budding for academic success.
In family disputes affecting his neighbors, he was the arbitrator they always looked up to.
He loved home and was always visiting after every one week to check on his projects as well as mingle with a few neighbors.
Unlike the rest of Kenyans who wonder how difficult it could have been to impress Magoha, his neighbors and relatives have a different story.
They are the ones who could effortlessly tickle his humour bone.
When The Standard visited his home on Wednesday, shock and grief engulfed as relatives, friends and neighbors struggled to come to terms with the shocking death of the renowned academician and medic.
Only a handful of his people were present at the home. A larger group had pitched a tent a few meters away at the home of his brother professor Richard Mabera who is also set to be buried on Saturday.
And even as they struggled to come to terms with the fresh tragedy, pain and grief was written all over their faces as they prepared the burial site for Magoha's brother. The thought of repeating the same procedure in the next days for the late former CS elicits tears from his cousins.
They sigh in agony at the thoughts of the sudden death of Magoha whose passing has left them stunned. Some of his closest relatives and employees flash weak painful smiles as they reminisce the times they shared with him.
To his employees, Magoha was a gentle father, a good listener and a caring man who was concerned about the welfare of his neighbors and village mates as much as he cared for the rest of the country.
George Agutu, one of Magoha's cousins described him as a kind person who did a lot for him and his family.
Agutu says his cousin was not tough but straightforward and loved order.
"We are shocked. Magoha was a unifying factor, he was kind and helped all of us. He was hardworking and that can be seen in his farms and the trees he planted at his home," adds Agutu.
Lydia Anyango, Magoha's niece says she was with her uncle the late Magoha last week.
"We talked as always the norm and I even prepared food which we ate together. This is very shocking news, one of our relatives is hospitalised after fainting," she narrates.
Julius Yembe says Magoha's death is a big setback to the family. They however cannot question God.
"He was covering a lot for our family. He was not greedy, he embraced all of us as a family. He was passionate about his job and took care of every Kenyan child," said Yembe.
Ezekiel Anialo, Magoha's neighbor in the village says Magoha visited them a couple of times despite his busy schedule and was always there for them.
Onialo says he visited home on weekly basis to check on his projects and also workers he employed at his home.
"Since last year December he has been here frequently coordinating the burial of his brother. He was a strict and feared man because he was always no nonsense but he was the person to go to when there were issues in the family," he narrates.
He describes Magoha as someone who was not in the habit of laughing but was very kind. He describes his no nonsense attitude as one that can be easily misunderstood - he meant well.
"He was welcoming despite the fact that people fear him. He was a good man, a man of his word. He supported children at school," Onialo recalls.
Onialo says of Magoha's plans for the Yala community there was one of having Odera Akango institution accredited as a full university.
"He had great plans for Yala to ensure it was a place people could come to benchmark on matters education. We are calling for prayers for the family who have suffered so much loss in a short period like span of one or two years," he adds.
Siaya Executive Secretary General of KUPPET Sam Opondo recalled the days he worked with Magoha while he was a teacher at St Marys Yala. He said Magoha was a board member who was like a father figure to the teaching fraternity and the students.
Opondo described Magoha as a professional, team player, worker and illustrious gentleman.
"I remember him fondly because he was an early riser and timekeeper. He was a kind man who would even tap my shoulder during face-to-face conversations," Opondo recalled.
Siaya Speaker George Okode who described Magoha as an indefatigable, honest and consummate academic trailblazer said politicians and administrators should take lessons from the late who spoke his mind and was clear on what he believed in.
"This is a lesson we must all take up. You speak your mind irrespective of whom you are addressing. He was passionate about his work and did not care much what people would think," said Okode.
His sentiments were echoed by Kisumu Governor Anyang Nyong'o who described Magoha as a long-term friend.
He said the death was heartbreaking, unbelievable and devastating.
"We have lost a towering scholar. An excellent educationist. A man full of life and humour. This death has dealt a terrible and an unforgivable double blow to the Magoha family, given that their other son, Prof Alex Magoha who died in the USA recently is to be buried this weekend," Nyong'o notes.
Magoha a Former Education Cabinet Secretary died at age 71.
Related Topics