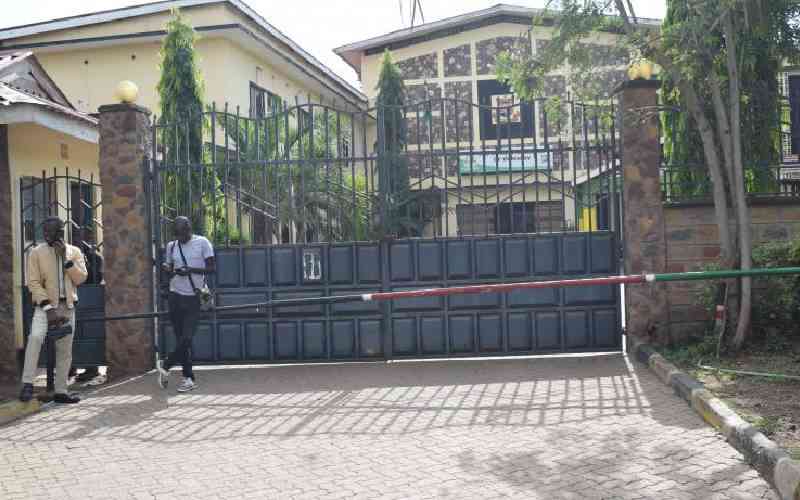 Several contestants who were angling themselves for the Homa Bay County Assembly Speaker have protested a move to be locked out.
Led by former CEO of Homa Bay Municipality Board Zilpa Opapo and bodaboda rider Polycup Nges, the contestants said they are dissatisfied with the manner in which they were locked out.
According to them, it has nothing to do with the late submission of the nomination letters as alleged but a sinister motive propelled by their rivals.
Opapo told The Standard that she presented her nomination papers with all the requirements to the office of the county assembly clerk.
The requirements included a letter of clearance from the IEBC, two elected MCAs who would serve as her proposer and seconder, a declaration form from the EACC, her curriculum vitae and academic certificates. But to her dismay, she was turned away.
"It is very sad that I am barred from the race after struggling to mobilize MCAs to vote me as the next speaker. What happened is unfair to me," Opapo said.
She argued that blocking her from the race is going to cause an imbalance in sharing of political positions in the county.
In her opinion, Homa Bay Town Constituency where she hails from lacks positions with the county outlook.
"Scuttling my candidature is a serious setback to Homa Bay Town constituency. This is a constituency which did not produce a governor, deputy governor, senator, woman rep, nominated MP or nominated senator. My candidature was going to fill the vacuum," Opapo said.
She promised to support another candidate for the position to avoid the wastage of her votes.
"I had mobilised all MCAs and won their support. This is a serious disappointment but I will support a candidate with a similar vision to mine," Opapo said.
Nges argued that the deadline for the presentation of nomination papers was too short.
"EACC does not work during weekends yet I got the advertisement on Thursday. That deadline was too short because the EACC office does not work on a weekend," said Nges.
Only six out of 13 aspirants were cleared for the county assembly speaker on Wednesday by 9.30 am.
The County Assembly Clerk Faith Apuko said the two were barred because they presented their nomination papers late.
Pascal Odhiambo, a 24-year-old who was approved to contest for the position said he wants to unite MCAs in the county assembly.
"I want to ensure the county assembly passes quality bills which improve lives of the people," Odhiambo said.
He also wants to improve the welfare of the MCAs.
Related Topics