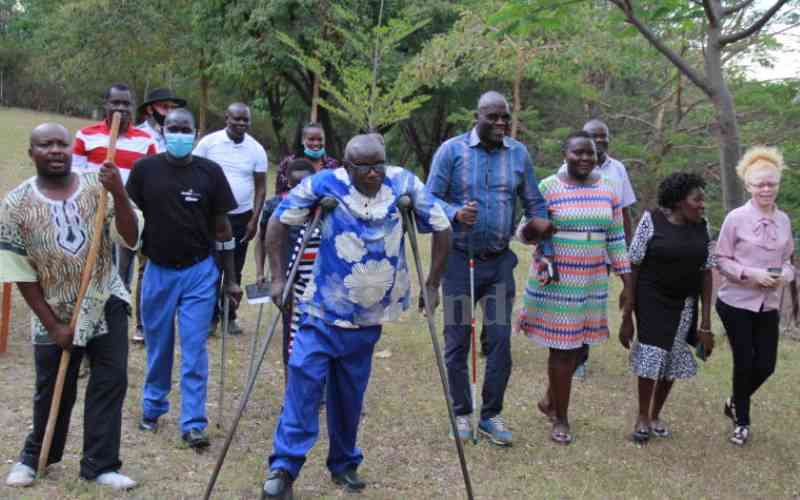 Persons with disabilities in Homa Bay County have accused ODM of overlooking them when nominating MCAs.
The Independent Electoral and Boundaries Commission (IEBC) has gazetted 14 people expected to be sworn in as nominated MCAs on Wednesday alongside the elected ward representatives. The 14 were all nominated by ODM.
Homa Bay County Disability Forum, through its co-ordinator David Ochola and secretary-general Jacob Omoro, said they have been denied a chance to have one of them as their representative.
They said those who have been nominated to represent the disabled are not their members.
"We feel we have been prejudiced in the nomination process. We have scrutinized the list of nominees and the people who have been nominated to represent persons with disabilities are not our members. We don't know why they were nominated," said Ochola.
Ochola said: "We ought to have been consulted by ODM before the nominations were done. We expected them to talk to us and allow us to propose names of people we think should represent the disabled in the county assembly. What has happened shows disrespect to persons with disabilities in this county."
Omoro said they have no faith that those nominated will serve their interests. "We doubt they understand the challenges affecting persons with disabilities," Omoro said.
He said they tried to persuade the ODM, through a letter months before the nomination was conducted, to consider their member but have been ignored. "They should have considered our advise," he said even as the MCAs are expected to be sworn in this week.
Those who have been nominated to represent persons with disability are former Homa Bay County Referral Hospital CEO Lilian Kochola and former chairman of Homa Bay County Public Service Board Daniel Ogada.
Others are Eric Owidh who represents the youth and Pauline Achieng (ethnicity). Others are Wilikister Andhu, Florence Ouma, Milcah Achieng, Pamela Okoth, Nancy Orina, Caroline Odundo, Evalyne Otieno, Margaret Oweje, Jessica Otieno and Yvonne Abonyo.
Related Topics