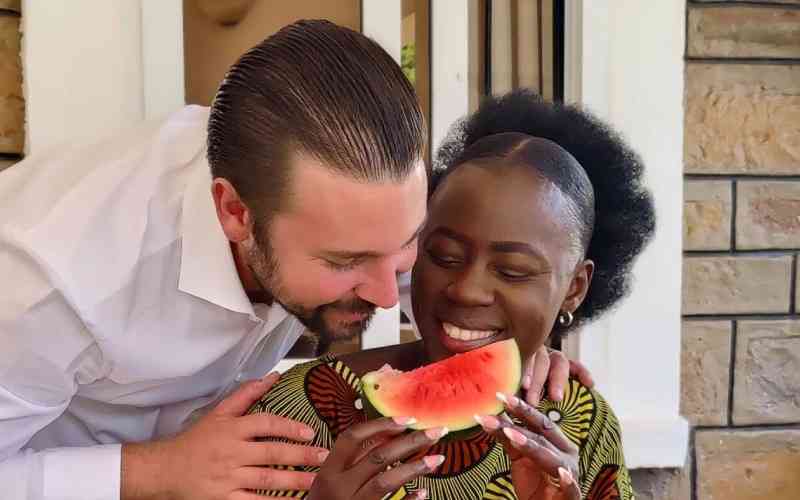 Hours after Akothee opened up about her mental struggles, she again took to social media to ask Kenyans to report a fake Facebook account created under her husband's name, Denis Schweizer.
The influencer said Denis had never been on Facebook and urged netizens not to rejoice at their shortcomings.
"This fake Account is now inboxing people to send money, kindly help me report this Account. Omondi Denis was never on Facebook and is not on Facebook. This is very wrong & very mean
"Kuwa na utu…This guy has zero info, si poa. Rejoice as much as you can, but don't be this mean. Help me report this account," she wrote.
Word has been going round that Akothee and Schweizer have parted ways although none of them has come out to address the issue.
The singer said she is not willing to discuss her relationship with third parties, stressing that she is focused on her projects.
She added that she is only willing to discuss business matters and will not tolerate any questions outside that.
"The news you have that is all. Those calling me constantly just know you are a destruction [sic] and I don't like it I am in the middle of meetings, what do you want us to talk about?
"You are not calling because you care, you are calling because you want first hand information.DONT CALL ME I REPEAT DONT CALL ME you never called me when I am winning, you never called to check up on me , most of you calling me now never call to congratulate me on Big wins. DO NOT WASSAP ME DO NOT CALL ME. I AM FINE AND BUSY WORKING KILA MTU APAMBANE TU Na maisha yake," she wrote.
In August this year, Akothee rubbished claims that she had parted ways with Schweizer just a few months after their wedding.
Through a video on her socials, the mother of five clarified that her song 'Simu' had nothing to do with her relationship status.
She added that many people had reached out to her to ask whether she had broken up with Schweizer aka Omosh, and this did not sit well with her.
"Even after media personalities seeing it is a song that has been dropped they still called to seek clarification.
"What I am I clarifying? You are calling to confirm whether my husband and I have broken up. Is it because Nelly who is part of my family came to my daughter's business launch? Or have you guys lost your brains?" she asked.
Akothee further stated that she would not create a poster to announce that she is single.
The singer got married early this year in a colourful event attended by the biggest names in the entertainment industry.
Related Topics