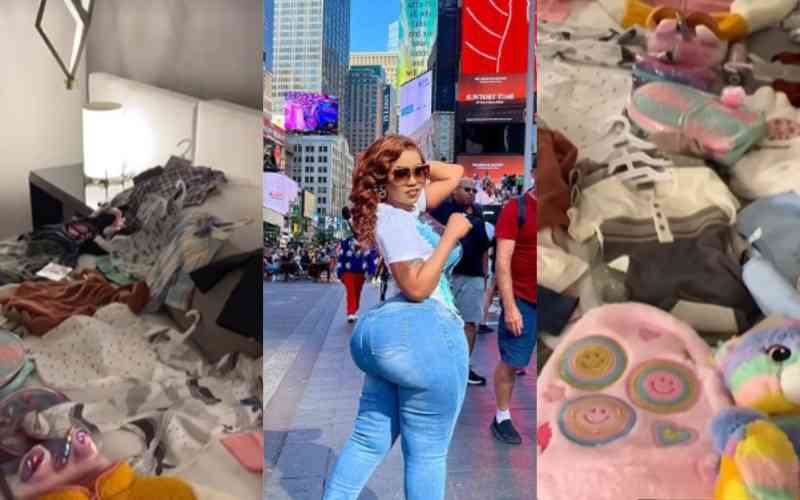 Socialite Vera Sidika on Wednesday claimed that she buys her babies' clothes in the US due to quality.
Through her instastories, Vera, who is currently in the US, said she had gone on a random shopping spree and ended up buying clothes for Asia and Ice Brown.
"Did some random shopping but ended up buying 90% clothes for my babies. I buy their clothes from USA…quality is amazing and pretty good stuff ey," she wrote.
Adding: "It is called being a mother. Babies always come first."
This comes just under a month after Vera treated her fans to a tour of Asia's room, claiming to have spent Sh500,000 on her baby cot.
It goes without saying that the Real Housewives of Nairobi actress goes over and beyond to give her children nothing but the best.
During Asia's first birthday, Vera imported a dress worth over Sh30,000 for her as she celebrated her big day.
"Many of you are asking about her dress, we imported Asia's Birthday dress from Florida, USA. It was about $250 bought from Adaaziza very unique and classy gowns for babies," she wrote.
Vera said many people had asked about the dress her daughter wore during her birthday and she directed them to a high-end online children's boutique that specialises in such.
According to the website, the Esmeralda Dress (pink) goes for Sh37,000 and comes with a matching headpiece.
The outfit, made of tulle and satin is smoothly double-lined with cotton from top to bottom and can be custom-made for children up to 12 years.
While celebrating Asia's half birthday in 2022, Vera launched a baby products business for her saying she wants her to become a self-made millionaire.
Reminiscing her childhood, Vera added that her daughter's current lifestyle was something she dreamt of while growing up.
"How I wish I had this life as a newborn. Kweli it's true, we work hard to give our kids what we never had. Aki God bless all mothers doing the best for their babies," she added.
Sharing her motherhood journey, Vera said that being a mother has positively contributed to her life, adding that it's the most beautiful thing to ever happen to her.
Related Topics