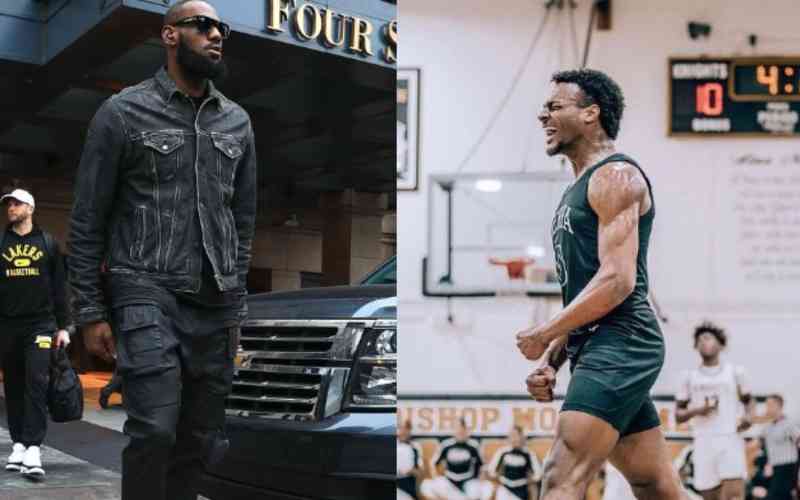 Basketball star LeBron James' eldest son Bronny James suffered cardiac arrest on Monday during a training session but is currently in stable condition.
A spokesperson for the family confirmed the incident but said Bronny, 18, was taken to hospital and medics attended to him in good time.
"Yesterday while practicing Bronny James suffered a cardiac arrest. Medical staff was able to treat Bronny and take him to the hospital. He is now in stable condition and no longer in ICU.
"We ask for respect and privacy for the James family and we will update media when there is more information," read the statement in part.
Further, it was reported that LeBron and his wife Savannah James were thankful to the University of Southern California medical staff and athletic staff for ensuring their athletes are safe.
On Wednesday, TMZ reported that the two were relieved that their son was out of danger and were in close contact with doctors attending to Bronny.
The fact that he was in ICU for a short time quelled their fears although more tests need to be carried out to determine the cause of the cardiac arrest.
Cardiac arrest occurs when the heart is not beating enough to pump blood to the brain and other tissues. One common cause, especially in adults, is an abnormal heart rhythm.
Another possible cause is stopping breathing, such as when a person chokes on something or drowns. Cardiac arrest could also happen if a person cannot breathe well enough because of a severe lung infection or severe asthma attack that is left untreated.
LeBron has been supportive of his son's basketball career and at one point spoke out against college coaches who were offering Bronny scholarship offers.
He is considered one for the future after showing incredible promise at Sierra Canyon High School, LA.
Bronny is the eldest son of James and has a younger brother Bryce Maximus, 16, and a sister Zhuri, 8.
View this post on Instagram
Related Topics