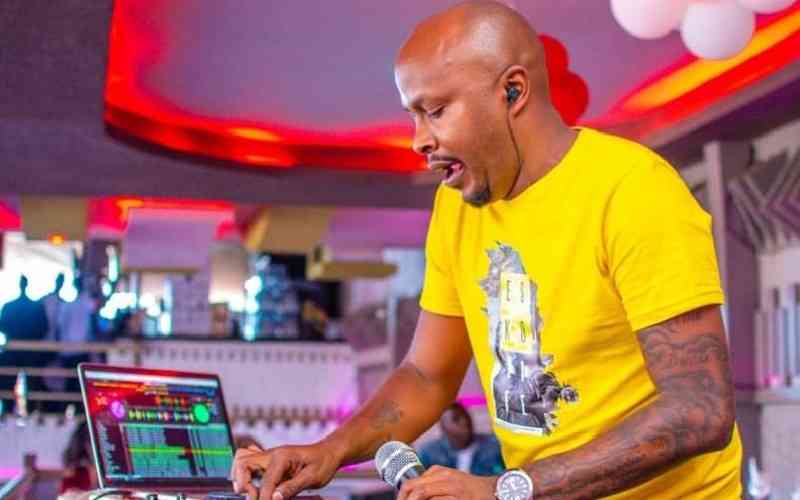 You know you are deep in your feelings when you jump up in the club and say, "that is my song!" Everyone around you is dancing, chatting, and laughing the evening away, and the lyrics of the song describe your mood at that exact moment. And the DJ keeps them coming. It is officially time to enjoy the club bangers.
Whether it is Diamond Platnumz' Nataka Kulewa as you and your friends signal the waiter to bring another round, or it is Sipangwingwi by Xray Taniuwa, Trio Mio and Ssaru when you are feeling bossy and defiant; there is a tune for every party feeling.
Our favourite artistes seem to have taken notice of Kenyans' love for feel-good, 'enjoyment' type of songs. Not just Kenyans, but Africans at large.
Tanzanian artiste Diamond Platnumz and singer Jux recently released their highly anticipated project together, a track called 'Enjoy,' whose title pretty much explains itself.
Barely three days since its official audio was released on Jux's YouTube channel, it had already garnered 1.4 million views. The video came out on July 16, and its concept, coupled with the lyrics, offers an infectious carefree experience.
"Siyataki mapenzi/nataka jipongeza/unaemwita baby/kumbe nae ana baby," the lyrics go in part.
They continue: "Na mi stress siwezi/ooh siwezi ahh/Bora ni enjoy."
They are words that urge one to ignore the problems at hand and focus on having fun. The Swahili-singing crooners deliver a dance-filled performance on the video; halfway through, the clip shifts to a party scene.
Packed with neon lights, dance routines and red cups, it is every bit a 'feel good' party scene. It is not too different from Diamond's 2014 track Nataka Kulewa, where the singer's fictional video character goes on a party binge after experiencing heartbreak.
"Ooh mapenzi, mapenzi yalinifanya katoto/ Nilie vibaya na nina mengi yamenikaa moyoni/ Leo nataka kulewa (lewa)/Mi nataka kulewa (lewa)," he sings on the popular track.
The video has accumulated over 5 million views to date, and it is no surprise that it remains a top club hit.
"It is a banger by the way," popular Kenyan DJ, DJ Crème de la Crème tells The Standard Entertainment about Diamond and Jux's Enjoy.
"I think Kenyans love these kinds of songs with the catchy phrases... especially alcohol and current trending words. And you can imagine the feeling the guy at the party has hearing those kinds of jams and he is very tipsy," adds the DJ.
He then gives a shout-out to producers and artistes riding this wave.
"When making music, catchy phrases always produce the club bangers," says the DJ.
He adds: "Drop Iyaniis song Pombe then play a song like Joe Boy's Alcohol after. Guys will go Crazy because it justifies their current state- Lit!"
And another well-known DJ, DJ Joe Mfalme, agrees.
He says: "Kenyans have a taste for these kinds of songs. We play them every week. When we play them at the club, there is the typical reaction we have learnt to expect. The screams and excitement are always in high gear."
When asked whether musicians should focus on the fun, carefree style as its popularity peaks, DJ Joe Mfalme warns artistes against straying from their unique styles too much.
"I would not advise musicians to go solely in this direction because I have seen musicians doing mellow music and going to the top of the charts. The likes of Nikita Kering; they have their fanbase," he says.
DJ Joe Mfalme adds: "Every artiste has their niche, and it is not everyone who listens to party music. Some fans enjoy the mellow tunes. Say, me, for example. I do not listen to those songs when I am relaxing. I do mostly when I am playing or at a party. What I play is not what I listen to. I listen to a lot of Neo-soul and Jazz - everyone has their favourite genres."
The Atlantic explores why revellers are enjoying partying more than ever in its piece, "Partying Feels Different Now".
It cites the onset of the pandemic in 2020 as a factor that allowed many to miss what we could not have during months of lockdowns across countries.
"But seen through the lens of a period such as the Great Depression, a good party may look not simply like a means of distraction but also like a survival mechanism. A party instils pause that, sometimes, works to delay the inevitable and allows its participants to rest and plan," The Atlantic notes.
The report adds: "A party gathers people together and grants them temporary shelter within the space of that pause. A party cannot solve the problems of the world, of course, but it can be the spark that sets the fires of courage burning for the people who must face those problems."
The success of party songs and club bangers, like Sipangwingwi, has been hard to ignore. Over at YouTube, the track enjoys over 8.9 million views since its release in October 2021. And the fans love it. They express that in the comment section, where there are over 6,000 comments.
"Trio Mio is a national treasure," writes one fan.
"I am a Tanzanian who loves Kenyan artistes. I love Kenyan vibes. Sipangwingwi!" writes another.
Rapper Xray "Taniua" ( Tony Kinyanjui) spoke about composing the song in a December 2021 interview, after it became entangled in political talk.
"I did not expect it to be that much of an anthem," he said, adding, "But I knew people would love it because no one expected me to do a song with both Trio and Ssaru."
"Someone called to tell me: 'Your song has been played at a Ruto event. I think it was at a women's meeting.' I was sent a video of women singing along to the song, and I was very happy. Then I saw Ruto in the news using the term. I am grateful the song has reached everyone from both genders and across all ages," he said.
There have been many club bangers released locally in the recent past.
Like Kuna Kuna by Vic West, Brandy Maina, Savara, the Exit Band and Fathermo in 2022. It is all about living it up at the club and forgetting one's problems. The video has an impressive 19 million views.
"Siezi, siezi, siezi toka club sai," Fathermo raps, lyrics translating to "I cannot leave the club right now."
More lyrics of the track, as sung by Brandy Maina go: "Nipe nikupee, come to the dance floor babe/ Leo tuna fess ah fe-fess ah fe banger/ Ama tutado it your way, yeah."
She calls her partner to the dancefloor and promises that they will have a good time. There is also Lewa by Parroty, Kabagazi, Oneboy and Mejja, which is all about the thrills of sharing drinks with friends.
The track was released in October 2020. It has since garnered an impressive 6.9 million views on YouTube.
The fans fill up the YouTube comment section with compliments to artistes on the successful track.
"I fear Kenyan music, it can hit you anytime, anywhere - Love from Rwanda!" wrote one Olivier.
"Certified banger. Hii itasumbua," wrote another going by the name Haniel, as another noted that it was Mejja's year.
10 top club bangers
It's Plenty – Burna Boy
Sipangwigwi – Exray Taniua featuring Trio Mio and Ssaru
Alaa – Dantez 254 featuring Rekles, Trio Mio, Odi wa Murang'a
Enjoy – Jux featuring Diamond Platnumz
Watoto na Pombe – Mejja and Otile
Nataka Kulewa – Diamond Platnumz
Lewa – Parroty, Kabagazi, OneBoy, Mejja
Waiter – Jeshi Jinga and VDJ Jones
Pewa Pewa – Alex Kasau
Kunakuna - Vic West featuring Fathermoh, Savara, Brandy Maina, Thee Exit Band
Related Topics