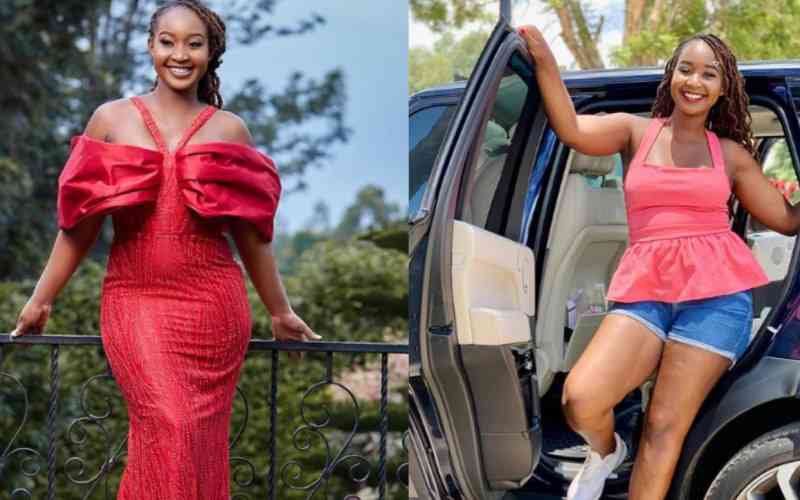 Kenyan Reality Star Gloria Kyallo has been juggling school, work and love, and she appears to have struck a balance.
Long shooting hours for the show Kyallo Kulture, where she stars alongside her sisters, media personality Betty and businesswoman Mercy have taught her about commitment and consistency.
She is pursuing a degree in Counselling Psychology and notes that attending night classes has allowed her to do it all.
On social media, the 22-year-old has gathered an impressive fanbase of over a hundred thousand, and she thrills fans with pretty pictures in stylish clothes; often smiling brightly and sprinkling positivity into her followers' day.
Even as the young TV personality seems to have it all together, she tells us that she is embracing the journey of getting to know herself, her values and figuring out what she wants to do in life.
"I have been influenced by my strong-willed sisters so many times, but you see, I came to understand who I was. I think that was a very important wake-up call for me where I realised that I am not like Betty, super outgoing, nor like Mercy; business-minded," Gloria says on a phone call with Pulse.
She adds: "Now I have to find a way to survive and make something out of myself. I have realised that I have my unique values, many of which I do not share with my sisters."
As for her career ambitions, the young influencer expressed a deep love for psychology and mental health awareness. But she says that it was not always her first choice.
"At first, I wanted to pursue a Bachelor of Medicine degree, especially because of my love for animals. But my KCSE grade did not allow me to do that immediately and it would require me to stay in school for so long. At the time, being so young, I felt that I did not want to study forever," she says, adding, "but right now I wish I just did."
"I was in such a hurry, to go where? If I could do things again, I would go and start from scratch with that Bachelor in Medicine degree."
Major decisions about her education and career are not the only factors that have taught Gloria to slow down.
In a recent episode of Kyallo Kulture, the Psychology major reveals that she is experiencing a wave of "baby fever", leaving her loved one's jaws dropped.
She now says that all that urge to start a family is over, as she has realised that she has a lot more living to do before taking that big step.
"I wanted a baby by the way. And I have always wanted a baby at 25," she tells Pulse.
Speaking about the 'baby fever', Gloria says: "Maybe I felt capable. But later, I had an epiphany and I realised that the world has so much to offer, and there is no rush."
"Once you have a child, it is the end of you as a single entity. Now you are functioning as both you and your child. Right now things are easy, we are just thinking about ourselves. It is not just about the financial strain, it is also about your emotional well-being - it is a lot of responsibility."
The TV personality adds that now, she has decided to prioritise having good experiences, travelling the world and making memories.
Gloria's relationship with her boyfriend, Ken Warui is another part of her life that drives a lot of conversation and pulls at the heartstrings too.
On the reality show, their quiet, contemplative dates show the couple's mature approach to communication in their relationship, and it is clear they are inseparable.
She reveals that they are still together, despite having faced some hiccups in their relationship as they ventured into Reality TV.
"I have to admit that I was not handling it well during Season 1 especially, and I remember that my relationship was on the rocks at some point," Gloria says, adding, "It was not working. My boyfriend felt that I said some things on camera that did not represent me well. That was such a low moment for me."
She adds that she was not ready to let her relationship go, and it was something they had to learn and grow from.
"No one can prepare you for public scrutiny. It was so painful. I would cry and think, 'Gosh, you mean my beautiful relationship is going to end because of people misunderstanding the things that I said or the way that I relate to my boyfriend?' I was hurt. I feel like we live and learn. Right now we are still going on strong."
Gloria also speaks about sisterhood, giving tips and trades that she has learnt from the close, loving bond she shares with her older siblings.
"I think the most important thing is to always have your sister's best interest at heart and to love them and care for them deeply. Because that is what is going to prevent you from hurting them or saying things you do not regret. Things are going to happen but if the love is strong enough then you will be able to get through anything," she says.
As she looks on to the future, Gloria says that it is all about exploration, growth and staying true to herself.
"Careerwise, I feel like my possibilities are endless. I do not like to limit myself, because I can be anything. Right now I am a reality TV star - who knew?"
She adds: "At the moment, I am being myself. And that is the most important thing. It is about doing what is right by me and living with no regrets."
View this post on Instagram
Related Topics