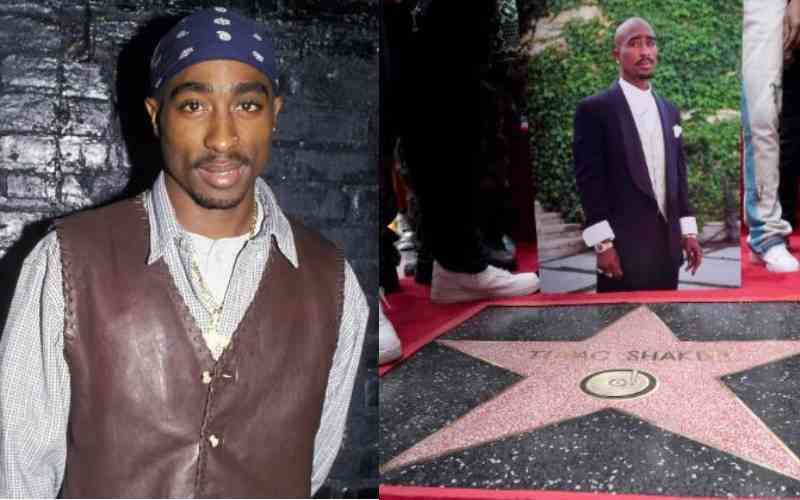 In a heartwarming ceremony on Wednesday, the late and great Tupac Shakur, one of the most influential figures in the history of hip-hop, was honored with a posthumous star on the prestigious Hollywood Walk of Fame.
The event served as a poignant tribute to commemorate Tupac's legendary recording career and his enduring impact on music and culture.
Tupac's sister, Sekyiwa "Set" Shakur, graced the ceremony to accept the honor on behalf of her beloved brother, who tragically passed away in 1996.
With an air of both pride and sadness, Set emotionally shared her thoughts on Tupac's journey to greatness, stating, "Tupac knew deep down that he was always meant for something great, and as his little sister, I had the privilege to watch that greatness unfold."
Set's heartfelt speech resonated with the audience, touching upon the indomitable spirit that fueled Tupac's artistry and his unyielding determination to make a difference through his music.
She continued, her voice brimming with emotion, "Today, we're not just honoring a star on the ground, but we're honoring the work and the passion that he has put in to make his dreams come true. His heavenly star will shine a little brighter today, and once again, he has made us extremely proud."
Tupac Shakur's posthumous star now joins the illustrious collection on the Hollywood Walk of Fame as the 2,758th star to be added to this iconic landmark.
Each star symbolizes the lasting contributions of accomplished entertainers who have left an indelible mark on the world of entertainment.
The Hollywood Walk of Fame, established in 1958, stretches along Hollywood Boulevard and Vine Street, attracting millions of visitors each year who come to pay homage to their favorite celebrities.
The addition of Tupac's star not only recognizes his immense talent but also acknowledges his significant cultural impact and the enduring influence of his music on subsequent generations.
Tupac Shakur, known for his powerful lyricism, thought-provoking social commentary, and raw storytelling, rose to prominence in the early 1990s with his groundbreaking albums, including "2Pacalypse Now," "Me Against the World," and "All Eyez on Me."
His music reflected the struggles of marginalized communities, shedding light on social injustice, poverty, and racial inequality.
Beyond his musical career, Tupac was a multifaceted artist who seamlessly transitioned into acting, leaving an indelible mark with his performances in films like "Juice" and "Poetic Justice."
Despite his untimely death at the age of 25, Tupac's influence continues to reverberate through his music, poetry, and the cultural legacy he left behind.
Related Topics