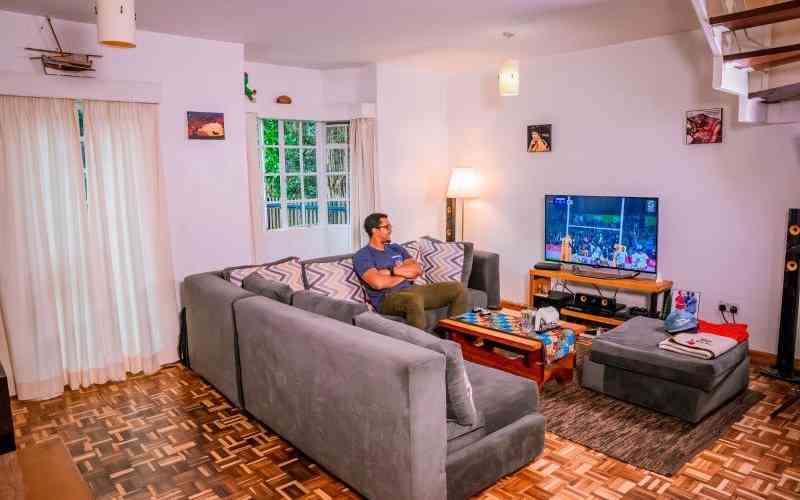 Biko Adema was a Sevens rugby star until he changed his career to a teacher at Banda School.
Passionate about passing information to children and empowering the next generation, he found his passion for teaching Physical Education at the school, which sponsored him to go abroad for an international teaching course with Nottingham University.
His space is a typical bachelor pad, spacious with white walls, huge windows and sheer white curtains, giving his space an airy and bright look and feel. A garden outside gives his space a perfect view and is ideal for picnics.
The wooden floor is inviting and welcoming, and a spiral staircase leads to the other rooms upstairs.
A huge corner grey sink-in sofa with striped African patterned cushions looks perfect for the space. Strategically placed in front of the TV, one can tell his friends hardly get bored because the huge screen plays sports.
A basketball rim strategically fixed in the living room was a gift by a friend and is a great distraction. Once in a while, he plays hoops with his friends. This confirms it's a bachelor pad for sure.
''I love basketball; in my other life, I would have played basketball,'' Biko explained.
His home echoes his love and passion for art. The walls are adorned with interesting art pieces.
"When I was young, I often painted and viewed art. My love for art is still there," he added.
Most of his art pieces are mementos from his rugby trips during Safari Sevens tournaments.
Art pieces of a chimpanzee and a tiger painting stand out. He liked the texture, look and feel of these paintings he bought from Hong Kong, China.
There are pictures of Bruce Lee and Michael Jordan with inspirational quotes. They are his mantra as they inspire and motivate him.
Hand-carved bar stools blended perfectly with the space. He plans to set up a bar soon.
By his bookshelf, you can tell he is an avid reader. He recently got a book as a gift from his father, 100 Years of Rugby, which he treasures and is one most valuable books, signed by the author.
It was gifted to him when he got engaged recently. "We plan to do a formal wedding very soon," he says.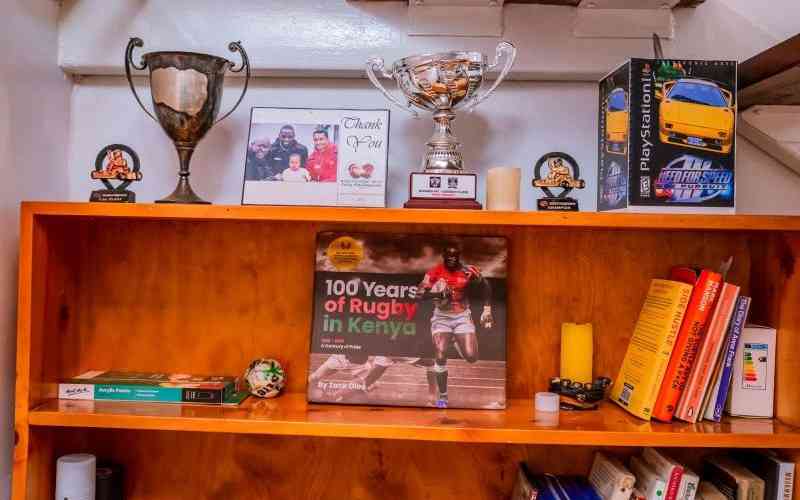 His fiancée doesn't like the limelight and prefers to support the love of her life. "I prefer to keep it that way for sanity and to be incognito,'' she said.
Born to a German mother and Luhya dad, he speaks a bit of German and Luhya.
He also plays trombone brass and plans to rekindle his relationship with it soon.
Biko is a big inspiration to the millennials, focused and determined to win.
Related Topics