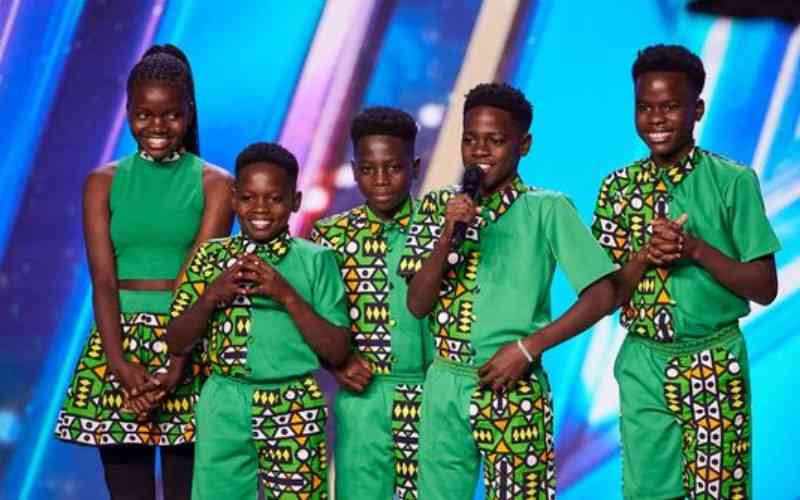 Ugandan dancing group, Ghetto Kids, have qualified for the highly anticipated finals of Britain's Got Talent (BGT).
Displaying their well-coordinated dance moves, the group entered the semi-finals amidst unwavering support from their fans, and true to form, they delivered a performance that exceeded all expectations.
Thanks to their exceptional dance skills, the troupe, who have now earned the admiration of millions across the globe, took to the stage with an African-inspired routine that ignited the crowd with excitement.
Their performance commenced with a captivating scene, reminiscent of a vibrant African village. A grass-thatched roof adorned the stage, as a young girl sat gracefully at the doorway, adding an authentic touch to the spectacle.
The backdrop showcased a breathtaking sunset, casting a warm glow upon the dancers, while clotheslines adorned with colourful garments swayed gently in the imaginary African breeze.
In vibrant yellow outfits, the rest of the dancers took over the stage with the crowd erupting in applause as they eagerly waited for their performance. Throughout their performance, the Ghetto Kids seamlessly transitioned between a variety of dance routines, showcasing their versatility and adaptability.
The six, aged five to 13, are orphans who live together in Uganda after being rescued from the streets by their 'dad' Daouda Kavuma.
Priscila, 12, Asharif, 12, Akram, 13, Shakib, 12, Madwanah, 13 and Josephine, 5, gave become fan favourites due to their energetic routines.
A quick look into social media, fans, majorly from Uganda embraced Twitter streets with pride and words of encouragement to the youngsters as they put Uganda on the map;
@DieuMBKahamire: I don't know who is behind these kids pushing them all this far. But whoever he's, I suggest let's all put in a little contribution to support him take these kids to the level they deserve to be.
@KLMCovenant: I love this?This is way better than the first performance... Congrats to the whole team. Keep shooting for the stars
@KkGero: I love the creativity and how these young ones put Uganda at heart. We are proud of you @ghettokidsug
@izero10: These little ones are selling our tourism more than our so cold hear big artists
However, a few netizens were of the opinion that there is a lot of improvement and perfection needed if they want to scoop the top prize.
@KayZanzibar: Please whoever is choreographing for these kids should really step up his game it's a competition not a show .... happy though they still flexing.
@juliojays: if I speak, I will be in big trouble and i don't want to be in trouble.
@minniesmusingz: Disturbingly slow this time. The beat was much faster. And the choreo not as diverse! Wonderful set tho! Lovely to my culture represented
Despite the mixed reaction, the majority are rooting for the kid dancers as they prepare for the finals. They are now among some 10 finalists staring at a possible £250,000 (approx. KSH. 43M) cash prize and a spot in the annual Royal Variety Performance.
View this post on Instagram
Related Topics