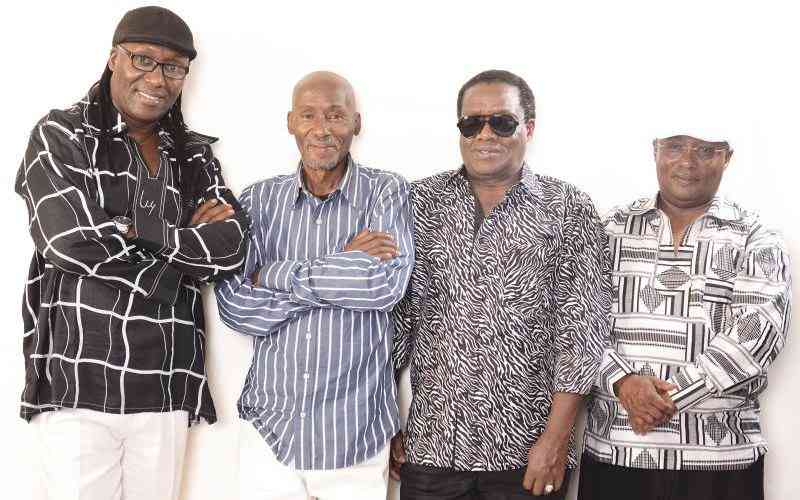 Them Mushrooms band has offered youthful bands copy singing rights to re-do their songs at a fee.
Bands can now improve on these hits as long as they meet terms and conditions as spelled out by the band's management.
Band leader John Katana Harrison said the terms are friendly.
"This is one of the ways to promote and modernise these songs for them to be appreciated from one generation to the other. It is a way to allow these young artistes to have a feel of what we used to do. Again, their production should not interfere with the moral teachings of the songs," said Katana.
He added, "Our terms and conditions are not prohibitive but friendly; it is a win-win policy for all the parties involved".
While giving the clearest example of how things should work, Katana explained that how Malaika was composed, played and produced in the 70s cannot be similar to how the youth of this generation can re-do it.
"Its (Malaika) composition and instrumentalisation cannot be similar to how we did it several decades back. Off course, they will have to improve on it in their way. Ours is to seek freshness on the same song instilled through modernisation but under our terms," he said.
Them Mushrooms band plays mainly Chakacha and at times Benga, and Reggae music.
Their 1982-hit Jambo Bwana catapulted the band to the global scene.
The song was later used by corporate companies to market Kenya abroad as a global tourist destination.
For the five decades, the band has been in existence, it has managed to produce over 20 albums and 20 singles, most of them in Kiswahili and English.
Some of their hits are Jambo Bwana, Malaika, Akumu Nyar Kisumu, Ukimwi Ni Hatari and Nyambura, which carry various moral teachings.
Katana said it is just a matter of time before they release new songs.
"Despite this development, we are about to release some new hits. We have not tired but we will do our work within the demands of the market," he said.
The band leader said they have already allocated four songs, with two going to Umoja Sounds, which include Nyambura (produced in 1989) and Ndogo Ndogo (produced in 1985).
"These two songs were the first to be allocated out to the young band after discussions and consultations by the management. They have the mutual consent to rework them," he said.
Other songs that have been allocated are Akumu Nyar Kisumu (produced in 1987) and Dance and Sing Along (produced in 1988)
Katana appealed to artistes and bands interested in the new scheme to approach them for talks.
"We still have songs that have not been taken. Our doors are open for the artistes willing to abide by our conditions," he said.
Them Mushrooms was formed on December 12, 1972, by the Harrison brothers Teddy Kalanda, Billy Sarro, George Zirro, John Katana, Pius Plato Chitianda 'Jibaba' and Pritt Nyale.
The group was originally based in Mombasa until 1986 when it relocated to Nairobi and since then, all their operations have been confined to the capital.
It almost disbanded in 1992 when its drummer and songwriter Dennis Kalume died and George Zirro left the band to pursue a solo career.
In 2002, they renamed their band Uyoga, but later on, reverted to their previous name, Them Mushrooms.
Related Topics