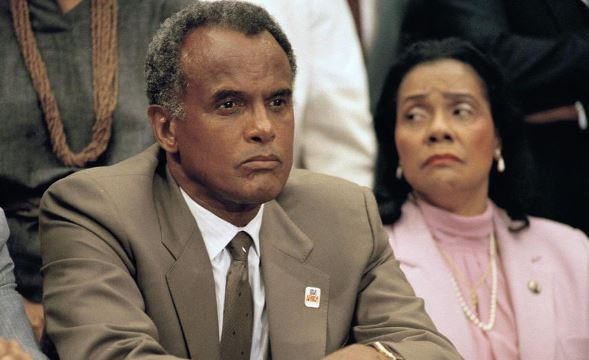 Carmen Berkley, a strategist with a Seattle-based foundation advocating equity and racial justice, remembers meeting Harry Belafonte a decade ago when she was a youth activist.
She'd gone to Florida to attend a sit-in protest that other young Black activists had staged at the Capitol in Tallahassee over the death of Trayvon Martin, a Black teenager fatally shot in 2012 by a resident of a gated community who decided Martin looked suspicious. Berkley recalls "this magical moment" when Belafonte showed up to encourage the Capitol demonstrators.
"He gave us hope. He reminded us that we are important, that we are powerful and we deserved freedom and Justice in our lifetimes," said Berkley, vice president of strategy and impact at Inatai Foundation. "There is no one like Mr. B," she added. "Humble and kind, generous and focused, and a true advocate for artists, advocates and all of the communities who want to get free."
Belafonte, who died Tuesday at age 96, was a close friend and ally of the Rev. Martin Luther King and stepped back from a lucrative and path-breaking career in music and acting to dedicate himself to the Civil Rights Movement of the 1950s and 1960s. But his legacy extended well beyond his generational peers. Over the past half century, for full-time activists and for artists and celebrities anxious to do more than entertain, Belafonte has endured as a role model, mentor and occasional scold, a village elder dedicated to advising young people on how to advocate for their rights and to reminding those who didn't meet their potential to change minds.
"So many people have stepped into a legacy he helped create," said David J. Johns, executive director of the National Black Justice Coalition, which has a mission to "end racism, homophobia, and LGBTQ/SGL bias and stigma." Shortly before the news broke that Belafonte had died, Johns had been on a panel in Miami, Florida, discussing equality and the preservation of democracy.
"I had been talking about the importance of being courageous and disruptive in the spirit of dream keepers like Bayard Rustin, James Baldwin and Harry Belafonte," he said.
The tributes Belafonte received after his death confirmed his singular stature: Praise from President Joe Biden and former President Barack Obama, whom Belafonte had criticized at times for not doing enough for the poor; from Oprah Winfrey and Spike Lee; Viola Davis and Questlove; who tweeted that Belafonte "taught me to think in terms of 'WE' not 'I.' That stuck with me. If there is one lesson we can learn from him it is 'what can I do to help mankind?'"
Cherrell Brown, an organizer within the Movement for Black Lives, a coalition of advocacy organizations that formed alongside BLM, remembers Belafonte as "a steady touchstone for so many young organizers."
"He'd be the first to throw his support behind young people rising up, and never tried to pacify the rage or anger or disappointment we were feeling," Brown said. "He never preached at us. He, instead, affirmed the work we were doing, opened his doors, cleared space for us and always listened."
As a movement veteran, he led by example, Brown added.
"I witnessed this icon, this giant, shift in his own political development and thinking," she said. "It taught me you're never too old, or too wise, to learn and grow."
Belafonte mentored Danny Glover, Common, Usher and many other public figures, and maintained close alliances even with those he often argued. Kerry Kennedy, daughter of the late Robert F. Kennedy, remembered the evolution of Belafonte's relationship with her family. He had questioned John F. Kennedy's awareness of racism and was openly skeptical of her father after JFK appointed him his attorney general, remembering him as having served on the staff of the extreme anti-Communist Sen. Joseph McCarthy.
"Sometimes they had their differences, but they came to respect and to deeply love each other," Kennedy says. "They were not afraid to challenge each other and be truthful with another."
Kerry Kennedy is the president of the nonprofit organization Robert F. Kennedy Human Rights and Belafonte was a board member, engaged right up until his death with the center's activities. Asked if she ever discussed with Belafonte his reasons for becoming an activist, she laughed and said you couldn't even have a conversation about lunch without Belafonte turning the subject "right back to civil rights and social justice."
Her disagreements with Belafonte were often educational, for both of them. She remembered him alleging that her grandfather, the businessman, investor and government official Joseph P. Kennedy, had earned his fortune through the exploitation of Black people. Kennedy told him that he was mistaken, that he had never owned slaves or profited off slave labor.
"But I realized that, of course, you couldn't make money in this country without Black exploitation. You couldn't get on an airplane, you couldn't get in a taxi, you couldn't read a book without Black exploitation," she said.
"It was beautiful, the constant talking, challenging, soul searching, defensiveness, and then revelation, a beautiful flow of conversation and insight. And who else is going to say all of this to me? He was relentless and fabulous and always argued from a place of love."
Related Topics