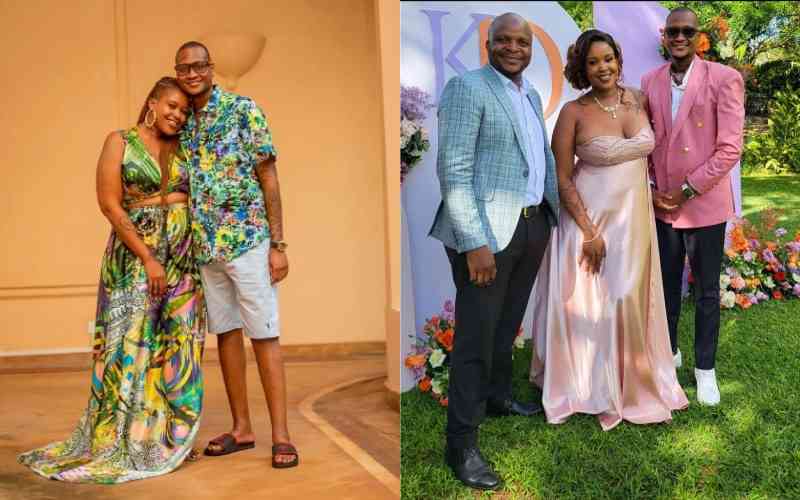 Former Kiss FM radio host Kamene Goro is off the market. The outspoken media personality tied the knot with her lover David Pyper aka DJ Bonez.
In what was an exclusive affair, news of the wedding was first shared by Langata MP Jalang'o who congratulated the pair on cementing their love.
"Love is a beautiful thing! Congratulations my sister @kamenegoro and @deejaybonez254 on your wedding day! Love you guys," he wrote.
Kamene looked elegant in a flowing peach dress, away from the usual white bridal outfits while DJ Bonez wore a pink blazer, navy blue pants and a pair of sneakers.
Earlier in the day, Bonez had put up a post on '420' but no one really picked up the hint.
Most of his followers thought he was referring to the celebration around the use of cannabis and he later wrote, "I said 4:20 nyinyi mkaona ni zile vitu zenu. I am happy Kamene Goro."
Online, fellow celebrities congratulated the lovebirds on their big day and we have highlighted some of their messages below.
Caroline Mutoko: Oh lovely! @kamenegoro Congratulations ? Be happy. Be well.
Terryanne Chebet: Congratulations Kamene Goro
Fellymcharo: Bonez yule wa Kuspin pale Sheba Lounge ??Chaiii this life,No balance
Wambui Wanyutu: If there's a lowkey chic i like ni huyu..Kamene is a pure example of cheza chini...Congrats @kamenegoro
In late 2022, Kamene told her fans about her type of man and was very particular about what she looks out for.
She said she is not attracted to men who listen to reggae music and would not date one.
"There are small things that just aburst me from men. Let me tell you one of them, there is no way I would be able to date you if you listen to reggae. Don't shoot the messenger because, because I don't listen to Reggae," she said.
In her explanation, music is a fundamental part of her life and she wanted a man who shared a similar taste in music.
"Music is such a fundamental part of my life. Very fundamental that if our music sense doesn't gel, my brother we can't do that. Imagine we are just chilling in the house and you tell me let me play for you Richie Spice.... What is that?" she added.
On her deal breakers, she stated that she would not remain in a relationship where she is shouted at.
She seems to have found her perfect match in DJ Bonez and we wish her well in her union.
View this post on Instagram
Related Topics